The Lawrence City Commission is ready to speak out against the Patriot Act.
How it speaks out -- and how far it's willing to take that opposition -- is yet to be decided.
"We're not ready this evening to finalize what that voice is going to say," Mayor David Dunfield said late Tuesday night after nearly three hours of debate on the topic.
The commission had been asked to approve a resolution, proposed by the Lawrence Bill of Rights Defense Committee, that called for repeal of the federal law and suggested city officials should "refrain" from cooperating with federal authorities enforcing it.
Commissioners said, unanimously, they shared concerns about the law. They directed city legal staff to research the legal basis for a resolution opposing the Patriot Act.
"I think there's sufficient cause for concern and sufficient reason for the city to be involved in this issue. It does involve city institutions and city functions," Dunfield said.
But there appeared to be a split over the provisions calling for noncooperation with federal authorities.
"If I had to vote right now, I wouldn't want to remove all the 'refrains,'" Commissioner Mike Rundle said. He appeared to be in the minority, however.
Congress passed the USA Patriot Act soon after the Sept. 11, 2001, terrorist attacks on the United States. It gives federal law enforcement authorities an array of expanded investigative powers, including: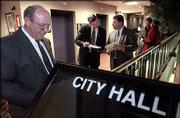 Broader wiretapping ability.
The ability to conduct secret "sneak and peek" searches, delaying notice to criminal suspects of such searches.
Allowing criminal investigators and intelligence officials greater authority to share information between agencies.
Access to records of customers of libraries, bookstores and other businesses.
The Lawrence committee's proposed resolution would have encouraged police and library officials to refrain from assisting federal authorities in investigations and arrests that would violate the constitutional rights -- of free expression, for example, or to a fair trial -- of Lawrence residents.
An overflow crowd attended Tuesday's City Commission meeting on the topic. Lawrence Police Chief Ron Olin was present, but silent.
Kris Kobach, a Republican candidate for the 3rd Congressional District seat now held by Rep. Dennis Moore, and Jim Flory, a former Douglas County district attorney who now works for U.S. Atty. Eric Melgren, defended the law.
"The Patriot Act is a direct and measured response to the fact that over 3,000 Americans died during the tragic events of 9-11, and a response to the fact that gaps in the law precipitated those attacks," said Kobach, who was counsel to U.S. Atty. Gen. John Ashcroft at the time of the 9-11 attacks.
The most recent adjusted figures for 9-11 set the death toll at 2,973.
Steve Lopes, secretary-treasurer of the Douglas County American Civil Liberties Union, challenged Kobach's assertions.
"This bill undermines many of the rights that define America," said Lopes, one of about a dozen residents to urge the commission to take action. "To be generous, the USA Patriot Act is a well-intentioned mistake."
Commissioners agreed.
"The fact is if people believe they're under threat, they're under threat ... that perception is as important as the legality, or the illegality, of it," Commissioner David Schauner said.
Officials said they did not know when a final resolution might come before the commission.
Copyright 2018 The Lawrence Journal-World. All rights reserved. This material may not be published, broadcast, rewritten or redistributed. We strive to uphold our values for every story published.