Atlanta — Cingular Wireless agreed to pay nearly $41 billion in cash to buy AT&T; Wireless Services to create the nation's largest mobile phone company, raising concern among consumer advocates that it may hurt competition and impede lower prices.
The deal announced Tuesday between the second and third largest U.S. wireless companies would create a cellular giant with 46 million subscribers and 70,000 employees. Current market leader Verizon Wireless has 37.5 million customers.
The deal -- subject to approval by AT&T; Wireless shareholders and federal regulators -- would be a boon for Atlanta-based Cingular's efforts to cut costs, fill service gaps and expand its spectrum, or radio frequency, in several key U.S markets, thus enabling it to offer wireless Internet access at broadband speed.
"This combination is expected to create customer benefits and growth prospects neither company could have achieved on its own and will mean better coverage, improved reliability, enhanced call quality and a wide array of new and innovative services," said Stan Sigman, president and chief executive of Cingular, who will continue to lead the company.
Some fear the merger could reduce the fierce competition that has driven down prices in the U.S. cellular market, trimming the number of national players from six to five.
"Losing a competitor in this kind of market hurts consumers, especially when you're merging the big players," said Mark Cooper, director of research at the Washington-based Consumer Federation of America. "It's not five and six that's merging. It's two and three, and that's a much bigger impact on competition."
Guzman and Co. analyst Patrick Comack said he doesn't expect prices to go up if the deal is approved: "You still have some very aggressive competitors out there."
Cingular, a joint venture between SBC Communications Inc. of San Antonio and BellSouth Corp. of Atlanta, said it would pay $15 cash per share, valuing Redmond, Wash.-based AT&T; Wireless at $40.7 billion. Cingular also will assume $6 billion of AT&T; Wireless debt.
The combined company will carry the Cingular name. Once a deal is approved, billing and other operational functions will be merged, though there will be no immediate effect on customers, said Ralph de la Vega, Cingular's chief operating officer.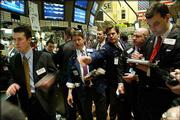 De la Vega said he did not expect federal regulators would ask the combined company to divest assets in order to gain antitrust approval.
"Even in areas of overlap, there is sufficient competition not to warrant it," he said.
As for possible job cuts or management changes, de la Vega indicated there could be some, though he would not elaborate.
Comack, the Guzman and Co. analyst, said significant layoffs were expected because there is so much duplication.
"They don't need the AT&T; Wireless employees at all. They might save some salesman, but everything is redundant," Comack said. "Cingular doubled their customer base and doubled their spectrum, but they can run that with the same amount of employees."
AT&T; Wireless had planned to cut 1,900 jobs from a work force of 31,000 by the end of 2005. Cingular has about 39,000 employees. AT&T; Wireless has 22 million subscribers. Cingular has 24 million subscribers.
Ackerman said the deal should save Cingular $1 billion in network construction and other costs by 2006. The deal also could save hundreds of millions of dollars in marketing costs.
The agreement closed a heated bidding war between Cingular and Britain's Vodafone Group PLC, which pulled out early Tuesday.
AT&T; Wireless, a spinoff no longer affiliated with AT&T; Corp., has struggled recently. Late last year, it couldn't add new subscribers because of a glitch in a new software system designed to improve customer service. The company also has acknowledged that it lost more customers than it gained under new federal rules that took effect in late November allowing cell phone users to change carriers without losing their phone numbers.
In trading on the New York Stock Exchange, AT&T; Wireless shares climbed $1.96, or 16.5 percent, to close at $13.78. Shares of SBC, which owns 60 percent of Cingular, fell 18 cents to $24.87, while shares of BellSouth, which owns the remaining 40 percent, fell 49 cents to $29.06.
Copyright 2018 The Associated Press. All rights reserved. This material may not be published, broadcast, rewritten or redistributed. We strive to uphold our values for every story published.