LINCOLN, NEB. — What a difference seven days make.
A week ago today, Kansas University's men's basketball team was fresh off a 96-77 throttling of Texas Tech in Allen Fieldhouse and had climbed eight rungs in the AP rankings to No. 12. The Jayhawks were peaking for the Big 12 Conference stretch run and eventually the conference and NCAA tournaments.
Today the KU men are reeling from back-to-back double-digit losses in conference play for the first time since the Ted Owens era, appear likely to drop out of the AP poll when it's released this afternoon and are in danger of being sent packing to somewhere like Buffalo or Columbus instead of Kemper Arena when the NCAA pairings are announced next month.
What's wrong with the Jayhawks?
"We've got some guys committed," said junior Wayne Simien, the only consistent KU performer during that 80-60 loss Monday at Oklahoma State and Sunday's 74-55 thrashing at Nebraska. "And we've got some guys showing up late for class and for practice. That's something you can't have."
Simien's reference seemed to indicate multiple offenders, whereas the only apparent guilty party was Jeff Graves, and that was guilt by association because the 6-foot-9 senior had been suspended for one game earlier in the season for tardiness.
Graves was on the bench Sunday, but not in uniform. KU coach Bill Self's reason for not suiting Graves -- that he could suit only 15 players on the road -- may or may not have been euphemistic, but the Jayhawks clearly missed the bulky post player ... if only for his defense.
Kansas turned Nebraska's post players into Kareem-Abdul Drevo and Shaquille Turek. Few foes fear the inside play of NU's Andrew Drevo and John Turek, yet the obscure Cornhusker duo combined to make 12 of 20 shots and score 28 points.
Mostly, they victimized David Padgett, a true freshman who never looked more like a freshman than he did Sunday, yet Simien couldn't stop them, either. Or Christian Moody. Or Bryant Nash. Or Moulaye Niang.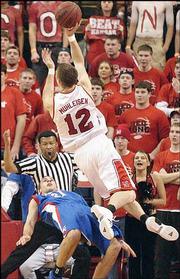 The Turek-Drevo tandem -- sounds like a name from "The Lord of the Rings," doesn't it? -- demolished the Jayhawks, who were so conscious of Nebraska's proven outside shooting that they never doubled-down and left Simien et al. on an island each time.
You could blame KU coach Bill Self for failing to change strategies, but what was he going to do? The Cornhuskers were hitting their threes, too. They made half of their 16 three-point attempts.
Still, the most unsettling aspect of Sunday's loss -- and the flogging at Oklahoma State, as well -- has been the Jayhawks' perplexing inability to function in a halfcourt offense.
Everybody in America knows KU is dedicated to tossing the ball inside to Simien and Padgett because the outside shooting is so spotty. Against Nebraska, the Jayhawks played basically without their primary three-point threat. J.R. Giddens, who has a nagging foot injury and was not pleasing the head coach with his defensive acumen, logged only 12 minutes against the Huskers and failed to score.
Michael Lee, who has been trying to push his season field-goal percentage over .400 without success after missing nine games with a shoulder injury, started in Giddens' place and scored six points. But with Giddens sub-par physically and Graves in street clothes, the Jayhawks suddenly had no bench.
Walk-on Nick Bahe, inserted late when the outcome no longer was in doubt, WAS the bench. Bahe was the lone KU non-starter who scored.
With Graves apparently in Bow-Wowland again and with Nash overmatched, Self has no senior leadership, so he has called upon juniors Simien, Keith Langford and Aaron Miles to hoist the flag. Yet Self pulled Langford and Miles from the floor in the first half in seeming displeasure over their performances.
That loss last Monday to Oklahoma State wasn't really cause for concern. The Cowboys were the highest-ranked team in the Big 12 at the time, and they are definitely the team to beat for the championship.
Yet losing by 20 to Oklahoma State is light-years away from losing by 19 points to Nebraska, last year's conference cellar-dweller -- a team that defeats ranked teams about as often as igloos melt
All a shaken KU fan can do is hope that a week from today -- after home games against Baylor and Iowa State -- the Jayhawks will have rediscovered their stinger, that the journeys to Stillwater, Okla., and Lincoln, Neb., were just potholes on the road to a mirthful March.
Copyright 2018 The Lawrence Journal-World. All rights reserved. This material may not be published, broadcast, rewritten or redistributed. We strive to uphold our values for every story published.