Raleigh, N.C. — Outworked and outhustled -- terms not usually associated with one of Mike Krzyzewski's basketball teams.
But that's what happened Sunday night as top-ranked Duke saw its 18-game winning streak snapped by No. 21 North Carolina State.
Marcus Melvin scored 18 points, and Julius Hodge made two clutch free throws with seven seconds left in the Wolfpack's 78-74 victory.
"They were very hungry," Krzyzewski said of North Carolina State. "A lot of stuff isn't about X's and O's, it's about how much you really want it."
Wolfpack senior Scooter Sherrill said: "You don't really hear that too much when you're playing Duke. They are always scrapping and outplaying other teams. So from that standpoint, I'm very proud of our team."
The win moved the Wolfpack (16-5, 9-2) within one game of the Blue Devils (21-2, 10-1) with five Atlantic Coast Conference games left and opened the door for either Stanford or Saint Joseph's to be No. 1 in when the Associated Press poll is released today.
N.C. State coach Herb Sendek had a difficult time making his way to the media room after countless hugs from Wolfpack supporters.
When asked the last time he hugged that many people, Sendek said: "At my wedding."
"This is obviously a very special moment for our basketball program," he added.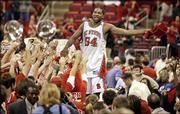 Duke's defense -- its staple all season -- failed the Blue Devils all night, allowing dribble penetration on numerous possessions as the Wolfpack shot 52 percent and got half its points in the paint.
No. 4 Pittsburgh 75,
No. 5 Connecticut 68
Pittsburgh -- Jaron Brown scored 13 of his 17 points in the second half, four during a pivotal 11-0 run, and Pittsburgh stayed in the Big East Conference lead by beating Connecticut.
The Panthers (23-3, 9-2) extended their homecourt winning streak to 40 games -- the longest in Division One. Pitt is 18-0 at home this season and 34-0 since the Petersen Events Center opened last season.
Pitt held off the Huskies with some uncommonly accurate free-throw shooting. The Panthers, 11th among the 14 Big East teams at the foul line, finished 24-of-33 to Connecticut's 9-of-19.
Ben Gordon scored 23 points for the Huskies (19-5, 7-3).
No. 20 Wake Forest 91, No. 13 Cincinnati 85
Winston-Salem, N.C. -- Freshman Chris Paul scored a career-high 30 points to lead Wake Forest to its first win in six all-time meetings with Cincinnati. He finished 10-of-14 from the field, made all three of his three-point attempts and went 7-for-7 from the free-throw line for the Demon Deacons (15-6). Tony Bobbitt had 23 points for the Bearcats (17-4).
No. 14 North Carolina 97, Maryland 86
Chapel Hill, N.C. -- Rashad McCants scored 25 points, and Jawad Williams added 23 for North Carolina. Sean May and Jackie Manuel each scored 14 points for the Tar Heels (15-7, 5-6 Atlantic Coast Conference). Chris McCray scored 16 points for the Terrapins (13-8, 4-6).
Big 12
Missouri 94, UNLV 60
Columbia, Mo. -- Missouri scored on 21 of 22 possessions in a dominating first half, and got a season-best 23 points from Arthur Johnson and a career-best 20 from freshman Thomas Gardner. The Tigers (11-10) played their most complete game of a mostly discombobulated season, taking a commanding 54-27 lead and hitting a season-best 13 three-pointers. Jason Conley added 17 points and Travon Bryant 11 for Missouri.
l Box scores on page 7C
Copyright 2017 The Associated Press. All rights reserved. This material may not be published, broadcast, rewritten or redistributed. We strive to uphold our values for every story published.