Daytona Beach, Fla. — Dale Earnhardt Jr. wasn't driving alone.
Daddy came along for the ride.
With the impatience of youth and the brash, fearless style of his father, Earnhardt Jr. won NASCAR's biggest event Sunday to add another bittersweet chapter to his family's Daytona legacy.
It all came rushing back after Junior crossed the finish line -- the Intimidator's 20-year pursuit of a Daytona 500 victory, his death on this track three years ago, a son's quest to live up to the family name.
"There are days when I feel I'm as good as my dad was," the 29-year-old Earnhardt said. "I'll say to myself, 'He couldn't have done it any better than that.' It's not long before I realize I was wrong. You know, he was pretty tough."
Maybe so, but score one for the MTV generation. Junior needed only five tries to win the Daytona 500; his hardscrabble father didn't win until his 20th attempt.
"He was over in the passenger side with me," said Earnhardt Jr., who barreled past Tony Stewart with 20 laps to go. "I'm sure he was having a blast."
The race was attended by President Bush, launched the Nextel Cup era and came six years to the day that the Intimidator won his first -- and only -- Daytona 500.
It's still one of the sport's most cherished scenes: the black No. 3 car rolling down pit road while the rival crews lined up to congratulate Earnhardt before he pulled into Victory Lane.
In 2001, he was killed on a last-lap crash in the 500, depriving the sport of a seven-time champion and its most popular driver.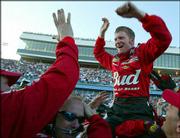 "In a way, it feels like I'm closer to my dad," Junior said. "At the same time, this is a reminder of losing him all over again."
This one proved he's definitely his father's son. At the end of lap 180, Earnhardt Jr. dipped to the inside without any drafting help and came within a foot of Stewart's car at nearly 190 mph through the trioval. Then Junior went right on by.
"I can't believe I passed him by myself," Earnhardt said. "I don't know what was going on. It was like a magic trick."
Stewart tried valiantly to catch up, briefly pulling beside Earnhardt coming out of turn two. But Junior showed his muscle on the backstretch, keeping Stewart in the rearview mirror.
That's where Stewart stayed. Earnhardt pulled away on the final lap, winning by about four car lengths while the crowd of 180,000 -- many of them wearing Junior's red and white colors -- erupted in celebration.
Earnhardt came back around and stopped his car at the checkered finish line. He pumped his fist and jumped into the arms of his crew, who lifted him on their shoulders for all to see. Then he climbed back into the No. 8 Chevrolet and attempted a few doughnuts in the grass -- just like his father after the 1998 race.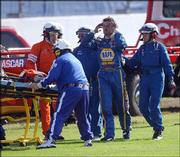 "I was taught so many lessons about this place before I ever got behind the wheel," Earnhardt said. "I'm glad I don't have to worry about (winning the 500) anymore."
The Earnhardts became the third father-son combination to win the Daytona 500, joining Lee and Richard Petty and Bobby and Davey Allison.
And, once again, Dale Earnhardt Inc. -- the team founded by the Intimidator -- proved its muscle in restrictor-plate races. Its drivers have won 10 of the last 12 races at Daytona and Talladega.
Stewart led 97 laps -- nearly half the 200-lap event -- but didn't have enough to hold off Earnhardt, who set the pace for 59.
"I wanted to win the race," Stewart said. "Trust me, if I could have held him off, I would have. But there was no holding that kid back. Today was his day."
A frightening crash on lap 72 took out defending race winner Michael Waltrip, whose car flipped at least three times and wound up landing on its roof in the backstretch. Junior's teammate wasn't injured.
Rookie Scott Wimmer held on for a surprising third-place finish. He briefly held the lead after gambling on his final pit stop -- taking only two tires -- but he didn't have enough grip to hold on.
Wimmer, the highest-finishing rookie ever in NASCAR's premier event, still faces drunken-driving charges after crashing a team truck last month. NASCAR hasn't decided whether to punish the driver.
"I understand what I did was wrong," Wimmer said. "But we'll make it through."
Kevin Harvick and Jimmie Johnson rounded out the top five.
Pole-winner Greg Biffle had to start from the back of the 43-car field after changing an engine Saturday. That allowed Earnhardt to take the green flag from the pole.
Biffle made up a lot of ground in an overheating car, running near the front late in the race. But he faded to 12th.
Waltrip was running three-wide when rookie Johnny Sauter got loose coming off turn two and sparked a chain-reaction wreck that took out 12 cars.
Waltrip got smashed in the side by Robby Gordon, a tire shredded, and the No. 15 car burrowed into the grass on the inside of the track, softened by rain that washed out Saturday's Busch Series race.
With dirt flying everywhere, Waltrip's car came to a stop upside down. Rescue workers spent nearly 10 minutes making sure he was OK, then flipped the car over to let the 6-foot-4 Waltrip climb out. He waved to the cheering crowd and then went to the infield care center for a quick check.
"When the car stopped, I was pinned real bad," he said. "I couldn't get out."
WaltriEy'd won two of the last three Daytona 500s, but not one he could truly celebrate. His 2001 victory was overshadowed by the crash that killed Earnhardt. Last year, Waltrip was declared the winner when rain shortened the race.
About 45 minutes before the race, while the drivers were being introduced, Air Force One swept over the speedway. Bush's aircraft circled around and landed at the airport just behind the back straightaway.
The president was driven onto pit road, where he peered into the cars and met a group of drivers who have made no secret of their GOP leanings. They crowded around the president near Stewart's No. 20 car, shaking hands and chatting.
Black-clad snipers hovered on the roof of a nearby building, peering through binoculars, as Bush said, "Gentlemen, start your engines."
With that, the cars roared to life for the Great American Race.
Bush said he'd like to take a spin around the high-banked oval, but the Secret Service wouldn't let him. "I like speed," he said.
Bush watched half the race from a suite above the start-finish line, but left early to beat thousands of revelers pouring out into the Daytona Beach streets. While the cars circled the 2 1/2-mile track, the 747 lifted off from behind the second turn.
He gave the winner a telephone call after the race.
"It was the most exciting race of my life," Junior told Bush. "Thank you very much. Take it easy."
Copyright 2018 The Associated Press. All rights reserved. This material may not be published, broadcast, rewritten or redistributed. We strive to uphold our values for every story published.