LINCOLN, NEB. — To say Kansas University's basketball team is in a mere slump would be a gross understatement.
"We're going through some (expletive) right now, basically, these last two games," KU junior point guard Aaron Miles said, describing the Jayhawks' 74-55 loss Sunday to Nebraska at Devaney Center, a loss that followed Monday's 20-point defeat at Oklahoma State. "I'm not used to this. It means a lot, but it also means nothing if we don't respond to it, take these lessons and build from them."
The No. 12-ranked -- but soon-to-plummet -- Jayhawks (15-6, 7-3 Big 12 Conference), will have to learn from several ignominies suffered this past week.
For instance:
the consecutive double-digit losses were the program's first in conference play since way back in 1983; KU's last two-game league skid came during the 2000-2001 season;
Sunday's loss was KU's third straight Big 12 road setback; KU last dropped three in a row on the road during the 1999-00 season;
Kansas hadn't lost to Nebraska since Feb. 10, 1999, and had won 18 of the last 20 meetings;
and finally, Sunday's blowout loss came to a Nebraska team (14-7, 4-6) that hadn't defeated a ranked Big 12 team since Texas Tech two seasons ago. NU had dropped its last 19 games to top 15 squads.
Ouch all around.
"We've had bad games, but not back-to-back bad games until now," KU coach Bill Self said. "We got our butts beat both games. It's cause for concern. We haven't played well this past week."
Self blamed lack of "energy and hunger" for the loss at Okie State.
This time he said the energy level was "average."
The Jayhawks tended to agree.
"I thought it was better (than at OSU)," junior Wayne Simien said of the effort. "Some guys played hard, but until we get all 16 guys to buy into the mentality that playing Kansas basketball is bigger than playing for yourself, then we will go downhill,"
Simien represented KU basketball past and present well, scoring 17 points with 12 rebounds while playing 35 minutes despite aggravating his nagging groin injury in the second half.
"Wayne played on one leg today. He competed," Self said. "We got our butts beat the last two games, but at least one guy tried and competed hard the whole way through.
"I'm not saying others didn't try hard, but it's very evident Wayne tried really hard the last two games."
One guy who has come up short in the effort department is senior center Jeff Graves, who did not dress for the game after a lethargic week of practice.
Graves' presence inside was missed: Nebraska's Andrew Drevo and John Turek combined for 28 points and 12 rebounds.
KU freshman center David Padgett had a rough game with five points off 2-of-8 shooting with three rebounds, while Christian Moody, Moulaye Niang and Bryant Nash failed to score inside in 19 combined minutes.
"I kind of challenged our guys this week to really commit and perform at a high level and compete at a high level and do those sort of things. Jeff obviously didn't do that," Self said. "If we were going to rank our players 1 to 16 based on this past week, Jeff is 16, and there's a Big 12 rule you can only suit 15."
So Graves was the odd man out, having to watch the game in dress clothes, giving way to walk-ons Moody, Stephen Vinson, Nick Bahe and Brett Olson.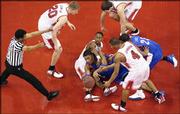 "Even if he suited up I wouldn't have played him," Self said of the 6-9 Graves, "just because of his lack of commitment to practice and getting better."
Self was asked how much the Jayhawks missed Graves Sunday.
"Based on practice this week, it didn't hurt us all," Self said.
He also didn't use backup guard Jeff Hawkins, instead turning to point guards Vinson the first half and Bahe in the second.
"Jeff has had plenty of opportunities to play. We wanted to get others in," Self said of the reason Hawkins sat. "I really believe this. I may be wrong ... our bench has been given opportunities all year long and really hasn't played at the level it should be playing.
"Given the opportunity, we'll play the guys who it means the most to wear a Kansas uniform, that kind of stuff. Stephen comes in and busts it ever single day. I told Stephen the way he played this past week he deserved a chance. I'm not saying it's permanent, but some other guys need to go as hard as Stephen."
Vinson entered with 9:13 left in the first half. Self also used Omar Wilkes for a spell, perhaps giving a wake-up call to the starters.
But the Jayhawks didn't answer the call.
KU, which led by one at halftime (28-27), was outscored 8-2 to begin the second 20 minutes.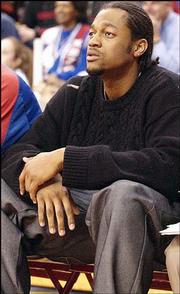 The Huskers ultimately used a Turek and Drevo-led 16-3 surge to turn a 42-37 lead into a 58-40 blowout.
"The second half we were dominated," Self said. "We tried to play zone. We tried to play man. We couldn't stop them. They played great. We couldn't do anything offensively at all."
Indeed, the Jayhawks bricked 13 of 18 threes and hit just 36.2 percent of their shots. Only Simien and Keith Langford (14 points) scored in double figures for KU.
It didn't help that J.R. Giddens scored no points in 12 minutes on a day he was a reserve, not a starter, because of a sore left foot.
Michael Lee opened and had six points in 32 minutes, missing three of four threes.
"J.R. has to give us energy. He didn't today," Self said. "He is a high-energy guy. Keith has to give us more energy. Aaron has to give us more energy. We didn't lose the game because we didn't compete. We lost because Nebraska was better than us."
About the only real spark evident aside from Simien came from Lincoln, Neb., native Bahe, who entered with 8:47 left and hit a pair of threes to cut KU's 18-point deficit to 12 with about six minutes left.
"We didn't really have anything going. Nick certainly works hard every day, and his attitude is great," Self said.
The Jayhawks' goal now is to maintain a strong attitude during this trying time.
KU's next game is against Baylor at 7 p.m. Wednesday at Allen Fieldhouse.
"We still have the mentality we can win every game," Langford said. "This will test our character. It's easy to be smiling and happy when we win 14 of 16 games or something, telling everybody how great it is. Now we have to show some toughness."
"We're going through obstacles now," Miles added. "The media and fans, some will criticize us. We've got to stick together, fight through it. Sometimes you have to go through obstacles to get where you want to go. You don't want it to be an easy ride. We can turn negatives into positives this year."
"There is a lot of season left," concluded Lee. "It is not the end of the world."
Copyright 2018 The Lawrence Journal-World. All rights reserved. This material may not be published, broadcast, rewritten or redistributed. We strive to uphold our values for every story published.