Daytona Beach, Fla. — Nobody knows better how much winning the Daytona 500 meant to his father than Dale Earnhardt Jr.
The kid still was polishing his skills in NASCAR's minor leagues in 1998 when his old man finally won, and Junior had seen the elder Earnhardt suffer through close call after close call in the biggest stock car race of them all.
That isn't going to happen to Little E. He's the Daytona 500 champion.
"I've seen it lost so many times by my dad over and over," Junior said in the emotional moments after winning the Great American Race on Sunday. "I was taught so many lessons about this place ... Now I don't have to worry about it any more."
For 19 years, Dale Sr. charged at Daytona as only the Intimidator could. And for 19 years, the famed Daytona International Speedway oval denied him victory.
He rarely showed much emotion, but Junior could see how hard his father took leaving without a victory.
"That ate the man's insides out," he said. "Inside of me, back then, just a little bit of wanting to win this race started up. You know it's been building ever since.
"I'll be honest with you, this is more important to me than anything, any other race I run all year."
Little E seemed to inherit the legacy of losing this race when his father died in a last-lap crash in the 2001 Daytona 500.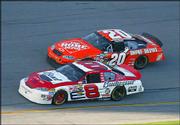 Since his father's death, Junior had won seven races on the 21/2-mile oval -- but not the big one.
He finished second to Dale Earnhardt Inc. teammate Michael Waltrip in that fateful 2001 race and was favored the next year, but got caught up in a big crash and wound up 29th.
Last year, Earnhardt Jr. was the heavy favorite after winning the Budweiser Shootout, taking the outside of the front row for the 500 in time trials, winning one of the 125-mile qualifying races and taking the checkered flag in the Busch Series race the day before the 500.
But, on the big day, a broken alternator cost him a lap. And when rain ended the race 91 laps short, Waltrip was the winner again, with Little E a disheartening 36th.
Only four years into his career, he was already hearing the question his father had to answer for so many years: "Are you ever going to win the Daytona 500?"
No more.
"Good God, I'm the Daytona 500 champion," Junior said Sunday after he passed Tony Stewart for the lead with no drafting help and went on to the most popular NASCAR victory since his father won the big one exactly six years earlier.
Dale Jr. said he felt like his father rode along with him.
"He was over on the passenger side with me," he said. "I'm sure he was having a blast."
It seemed like everyone was happy for Earnhardt -- even his fiercest competitor.
"I think his father's really proud today," Stewart said. "If I could have held him off, had him finish second, I would have done it in a heartbeat.
"But there was no holding that kid back today."
On the day that the Nextel Cup era officially began, real racing returned to Daytona, with drivers able to run side by side and pass and hardly a word about restrictor-plate racing or the much-feared tire problems.
Junior has rarely avoided a party in his 29 years, and Sunday was going to be a real big one -- until he was reminded he still has some work to do at Daytona.
Rain Saturday interrupted the Hershey's Kisses 300 Busch Series race with Junior leading. It was scheduled to resume this morning.
"That's going to be hard," Earnhardt said, grinning. "I'd like to enjoy this one for a while."
Copyright 2018 The Associated Press. All rights reserved. This material may not be published, broadcast, rewritten or redistributed. We strive to uphold our values for every story published.