LINCOLN, NEB. — Kansas University freshman Nick Bahe heard the chants of "traitor, traitor" after hitting a pair of three-pointers Sunday at Nebraska's Devaney Center.
"I was a little surprised," said Bahe, a hometown hero from Lincoln Southeast High, "but I tried to filter that out. I mentally prepared myself for everything. It's athletics. It's how things go."
Bahe wasn't as depressed about the chants as he was KU's 74-55 loss to Nebraska. It marked KU's second blowout loss in a week, the other a 20-pointer Monday at Oklahoma State.
"It's real disappointing," Bahe said, "but every valley has its peaks, too. We'll come out of this."
Bahe's two three-pointers helped KU slice an 18-point deficit to 12 in the second half, but they weren't enough to slow the Huskers, who hit 13 of their first 18 second-half shots in wiping out a one-point halftime deficit.
"When coach (Bill) Self called my name, I just wanted to do whatever I could to give a spark," said Bahe, who entered for the first time with 8:47 left and KU down, 58-40. "We were on the ropes, so to speak. They beat us today, but we will band together. We're still a tight-knit club."
Self elected to reward Bahe and Stephen Vinson for playing hard at practice in the wake of the loss to Oklahoma State.
Vinson played a minute the first half; Bahe played nine minutes in the second half. The Jayhawks who see regular minutes applauded the move.
"The hardest workers deserve to be on the court," junior Michael Lee said. "We need guys who work as hard as Wayne does. Wayne is the one guy who is giving all-out effort at all times."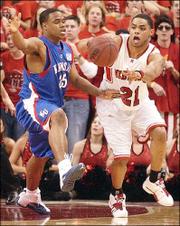 Wayne Simien scored 17 points and grabbed 12 boards in 35 minutes against NU, but aggravated his nagging groin injury in the second half. It appeared to be a charley-horse at first.
"Nah, it's a little more than that," Simien said. "I got kneed by the problem area where I've had a problem, the hip. It won't keep me out. I'll play."
Of KU dropping two straight games, Simien said: "I don't think there's a sense of panic. Guys definitely don't know how to react to this yet. Even the younger guys have not lost two in a row in high school. There will have to be a change of attitude and mind-set. We've got to bring it the next seven games."
¢
KU misses Graves: KU senior Jeff Graves didn't suit for the game because of a "coach's decision," Self said.
The Big 12 Conference allows 15 players to dress for games on the road. KU has 16 players, and Graves, Self said, had the worst week of practice of all 16 players.
"It hurt," Simien said of Graves' absence on the inside. "It's between he and coach."
Graves was unavailable for comment.
"I'm not supposed to talk about it right now," KU's Keith Langford said. "The bottom line is, the guys playing didn't do what they were supposed to do. The guys playing have to keep a level focus playing."
¢
Good week of practice: Self thought his Jayhawks had responded well at practice during the week following Monday's 20-point loss at Oklahoma State.
"It was good. It wasn't a bad week of practice at all," he said. "Wednesday and Thursday were terrific practices.
"Every team goes through peaks and valleys. This is the biggest valley we've been in.
"We could have played well in both games and still got beat," Self added. "Give Nebraska credit. They kicked our butt, and give Oklahoma State credit. They kicked our butt."
¢
Two back: KU (7-3) is two games behind Oklahoma State in the standings, a game behind Texas and now just one ahead of Oklahoma and Texas Tech.
"Mathematics indicates we still have a shot," Self said. "I don't know if Oklahoma State will run the table. We still go to Texas and Missouri. You still have a chance to make up some ground on the road. Obviously, we are still involved, but it's got to be perfect the rest of the way."
¢
Sellout crowd: The Cornhuskers had their first sellout in two seasons (13,611). The previous high attendance mark this season was 9,614 for NU's 78-62 win Feb. 7 over Missouri.
NU's student body was especially fired up for the game. A group of about 10 students camped out Saturday night and early Sunday morning in sleeping bags in a cold foyer just outside the main entrance to Devaney Center.
Temperatures dipped to 3 degrees in the morning hours.
¢
Stats, facts: Lee started for the third time this season and first time since Nov. 25 versus Michigan State. He was starting for J.R. Giddens, who was nursing a sore left foot. ... KU had just two free-throw attempts the first half. ... NU's 19-point win was the Huskers' biggest against KU since a 75-55 decision in 1982.
Copyright 2018 The Lawrence Journal-World. All rights reserved. This material may not be published, broadcast, rewritten or redistributed. We strive to uphold our values for every story published.