College Station, Texas — It took awhile, but No. 7 Texas Tech finally solved the Texas A&M; defense Saturday night.
LaToya Davis scored on a layup with four seconds left, ending Tech's 10:55 field-goal drought and giving the Red Raiders a 59-58 win.
"I just ran through the middle and caught it," said Davis, who scored 11 points in the first half and was held scoreless in the second before rebounding a missed free throw, then racing down the court and getting it back for the game-winner.
Tech (21-4, 7-4 Big 12 Conference), which got 18 points from Chesley Dabbs, trailed 58-55 with 15 seconds left. But Cisti Greenwalt hit a pair of free throws, then Toccara Williams missed the front end of a one-and-one that Davis rebounded.
A&M; (8-15, 1-11) had one more chance, but Lynn Classen air-balled a 10-foot jumper with one second remaining.
Williams led the Aggies with 21 points, eight assists and eight steals.
"I think they make you play ugly," Tech coach Marsha Sharp said. "You just have to attack the rim and sometimes you're going to get double-teamed and sometimes you have to throw it up and hope for the best."
It was the third tough home loss for A&M; against a ranked opponent. The Aggies have lost by three points to then-No. 24 Baylor and by two to then-No. 3 Texas.
"I'm tired of people patting me on the back. I'm tired of the little applause for effort. I'm not in this for effort. I'm in this for wins," A&M; coach Gary Blair said. "And we'll get there."
Iowa State 81,
No. 18 Baylor 72
Ames, Iowa -- Mary Fox scored a career-high 22 and made five of Iowa State's 13 three-pointers, leading the Cyclones.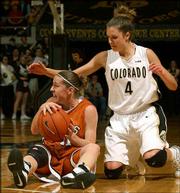 Iowa State (11-11, 4-7) recovered from a six-minute scoring drought midway through the second half and went on a 16-2 run to erase a 10-point Baylor lead.
The loss was the first for Baylor (18-6, 6-5) against an unranked team this season.
No. 1 Texas 51,
No. 12 Colorado 45
Boulder, Colo. -- Stacy Stephens had 13 points and 11 rebounds, Tiffany Jackson hit a key layup with 1:30 left and top-ranked Texas held off No. 12 Colorado. Jackson added 10 points and 11 rebounds for Texas (23-2, 11-1), which posted its ninth straight victory despite shooting 26 percent -- its worst performance of the season. Colorado (19-4, 8-3) got 10 points and 12 rebounds from Randie Wirt, and Anna Nedovic also had 10 points. Tera Bjorklund, the Buffaloes' leading scorer and rebounder, scored only five points before fouling out with 7:59 remaining.
No. 9 Kansas State 89, Nebraska 69
Manhattan -- Kendra Wecker scored 18 points for Kansas State, which started the second half 8-for-10 in its sixth straight victory. Twiggy McIntyre added 13 points, Claire Coggins 12, and Laurie Koehn and Nicole Ohlde 11 apiece for the Wildcats (19-3, 10-1).
Missouri 71,
Oklahoma State 46
Stillwater, Okla. -- Evan Unrau had 18 points and 13 rebounds and MyEsha Perkins added 14 points to lead Missouri. Missouri (13-9, 4-7) never trailed after the game's first three minutes and steadily added to its lead throughout the game. The Tigers' largest lead of the game was the final margin -- 25 points. Stretch James had 11 points and eight rebounds for Missouri and Tracy Lozier chipped in 10 points and six assists. Oklahoma State (8-15, 3-9) lost its fifth-straight game.
Copyright 2018 The Associated Press. All rights reserved. This material may not be published, broadcast, rewritten or redistributed. We strive to uphold our values for every story published.