Beware drivers. Convenience store operators say the enticing deals on gasoline at area grocery stores may save you money today but will cost you plenty in the future.
Convenience store operators in Lawrence and across Kansas are taking aim at their corporate competitors, which includes Dillons, Hy-Vee and Wal-Mart.
Some convenience store operators are convinced that the big retailers have embarked on a strategy to put independent convenience stores out of business by routinely selling gasoline at a price below wholesale costs.
"Their premise is to get customers by undercutting everyone else in the area, and they don't care if they lose money doing it," said Scott Zaremba, vice president of Zarco 66, a Lawrence-based convenience store company. "They can afford to go years to wipe out the competition, but once they do, what's to stop them from selling gas for $3 a gallon?"
Small business owners like Zaremba are hoping the Kansas Legislature will put a stop to it. The Petroleum Marketers and Convenience Store Association of Kansas is pushing for a bill that would make it illegal for anyone to sell gasoline for less than what they paid for it.
Tom Palace, the association's executive director, said although the bill would eliminate some of the cheap gasoline prices at large retailers, it is a positive piece of legislation for consumers because it will ensure they'll have a variety of businesses to buy gasoline from in the future.
"I hate to say it, but I think the consumer is being a little short-sighted," Palace said. "If this continues, someone is going to be paying a lot more for gasoline in the future."
Representatives of the large grocery stores and discount chains are opposed to the Kansas legislation and other bills that are making their way through statehouses across the country.
"This is definitely very anti-consumer legislation," said Ruth Mitchell, assistant vice president of communications for Hy-Vee. "This would be no different than the government telling us we can't sell eggs or coffee below costs, and that makes no sense."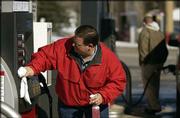 Predatory pricing
Douglas County legislator Tom Holland, D-Baldwin, is the bill's champion. He sponsored and successfully guided it through the House Commerce and Labor Committee.
"I feel very strongly about this," Holland said. "This is just basic predatory pricing that is going on. It is putting small Kansas businesses out of business. When we destroy a small business, I really think it damages our quality of life."
Large retailers entered the Lawrence gasoline market a little more than a year ago. Dillons became the first by installing gasoline pumps at their Sixth Street and Lawrence Avenue store in August 2002. Hy-Vee opened a convenience store in the parking lot of its Sixth Street and Monterey Way store in mid-2003.
Both businesses' prices are generally among the lowest in town. A spokesperson for Dillons did not return calls for comment, but the company advertises discounts of 2 cents to 6 cents per gallon for people who use their Dillons Plus Shopper Cards. Hy-Vee has been offering discounts of 5 cents to 10 cents per gallon for people who show a Hy-Vee receipt.
Palace said that was possible because grocery stores weren't overly concerned with making money on their gasoline. Instead, they're using the cheap prices to attract customers to their stores to buy groceries.
He said that's a terrible way to use a precious commodity.
"They're treating gas just like they treat a case of pop, but gas is a natural resource," Palace said. "This is something that we all have to use. We fight wars over this."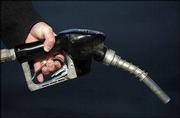 Palace said the deep discounts already are taking a toll on traditional convenience stores. He estimated that grocery and discount stores have gained 10 percent of the state's retail gasoline market in the past four years.
Good retailing
Mitchell, Hy-Vee's spokeswoman, said that showed consumers have no problem with the companies' pricing practices.
"It has been very successful at our stores," Mitchell said. "Our customers like the idea of getting a reward for shopping with us."
She said the company, which operates 32 gasoline stations at its 193 supermarkets, believed selling items below cost, at times, made good business sense and shouldn't be prohibited by law.
"It is no different than when we run an ad for a real good deal on ground beef," Mitchell said. "Sometimes we sell that below cost. It is called a promotional investment.
"Retailers are in business to try to convince customers to shop with them. We deserve the right to try to attract customers to our business."
Mitchell said there shouldn't be concerns that gasoline stations and discounters would monopolize gasoline markets. She said if grocery stores and discounters gained the upper hand in a market and began charging artificially high prices, the market would quickly correct itself by adding new competitors.
"That's the way the free market has always worked," Mitchell said. "If prices became high in Lawrence, new businesses would quickly swoop into the market to sell it cheaper because they know they could make a killing."
A random survey of consumers showed they were mixed about the idea of a law that would prohibit businesses from selling gasoline at below costs.
"I don't know if this is the right way, but I think they ought to do something to increase the price of gas, period, because of the diminishing availability of it," said Thad Holcombe, Lawrence. "I know that puts low-income people in a bind, but we've got to start paying what it is actually worth."
But Brian Thomas, Lawrence, said he liked getting a good deal on gasoline and said he was skeptical that convenience stores were in jeopardy of being run out of business.
"It just doesn't seem like they're that much of a threat," Thomas said of grocery and discount stores. "They (convenience stores) might be making more out of it than it's really worth."
No date has been set for House members to vote on the bill, but Holland said he was optimistic a vote could happen this week. If approved, the bill, HB 2330, would face a tough test in the Senate. Holland said he had not yet won the support of leaders in the Senate.
Copyright 2018 The Lawrence Journal-World. All rights reserved. This material may not be published, broadcast, rewritten or redistributed. We strive to uphold our values for every story published.