Eudora — Having 5,000 residents driving on an aging road network is one thing.
Embracing another 5,000 residents in the next decade -- without adding another cent to Eudora's capital improvements budget -- simply is unthinkable, said Mike Yanez, city administrator.
"We're a town that's being forced to grow up," Yanez said. "With the growth that's hit us, we can't afford to do nothing."
That's why officials are discussing prospects for assessing an excise tax on new developments in town.
The money generated from the extra charges on land set aside for construction -- envisioned to add at least $1,000 to the cost of a typical residential lot -- would be used to defray the rising costs of fixing potholes, resurfacing roads and widening streets in a city absorbing an inevitable expansion.
"We need to get caught up with the growth that is happening today and then put ourselves in a position where we can continue to hopefully get to where we can at least be going even with the growth or maybe one step ahead," Yanez said.
But talk of such a tax is raising concerns in the development community, which already has targeted Eudora for hundreds of new homes.
Brett Fritzel, president and owner of Meadowlark Development Group, couldn't believe his ears when he heard about the tax concept earlier this month.
Fritzel already has sunk "millions" of dollars into his Meadowlark subdivision, which markets single-family homes ranging from $240,000 to $500,000 along the east side of Church Street south of Kansas Highway 10. The homes are across the street from Eudora's new $16 million high school, which opened in August.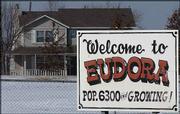 Tax 'seems silly'
Meadowlark is among several developments building on Eudora's small-town character and proximity to the Kansas City metro area. But, for Fritzel's money, such attractiveness could be stifled if the tax falls into place.
At the projected 15 cents to 20 cents per square foot, the tax would add $1,050 to $1,400 to the cost of a typical, 7,000-square-foot buildable lot in Eudora.
At Meadowlark, where Fritzel already has 40 homes built or under contract and 21 on the way, a "typical" lot can be as large as 32,000 square feet.
That would add another $4,800 to $6,400 to the cost of a lot, a cost a builder would absorb until the home is sold.
Eudora city officials are considering imposing an excise tax on new developments in town, with plans for any money generated to be used for improvements to the city's transportation network.Mike Yanez, city administrator, said Eudora's tax likely would fall between 15 cents and 20 cents per square foot of buildable area.Here's how other cities' excise taxes compare, he said:¢ De Soto, 19 cents per square foot.¢ Lenexa, 15 cents per square foot.¢ Gardner, 13.6 cents per square foot.¢ Tonganoxie, 5 cents per square foot.
"When we develop, we pay for everything in the subdivision anyway, the streets, the sewer. The subdivision is basically paid for by the developers in this town," Fritzel said. "But by the time you do that, and you create this tax base, and you give it to the city to generate tax revenue off of, it seems kind of silly to have to pay more on top of that."
Yanez expects such opposition from developers and builders, but he can't shake the demands their projects place on city services and infrastructure.
The city sets aside $500,000 a year for capital-improvement projects, from adding sewer lines to upgrading roads. But the city hasn't yet reserved a single dollar for a planned $6 million reconstruction of Church Street, the north-south artery that connects Eudora across Kansas Highway 10 and serves as the main access road to get to the highway, which runs from Lawrence to the Kansas City metro area.
'Double' talk
Residents of homes in virtually every new development, either under construction or on the drawing board, will use Church Street, Yanez said. Eudora's high school, middle school, and likely a future elementary school are set up off the street south of the highway, and more homes are certain to follow.
"We're a population of 5,000," Yanez said. "I anticipate our population will probably double in seven to 10 years, with the amount of development speculation that's going on in and around the community."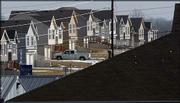 Members of the Eudora City Council have discussed the prospects of imposing such taxes and have supported the concept enough to have Yanez write an ordinance that would put such a tax into effect.
Fritzel's take: "My first thought is: Oh my God. We've got to quit.
"What are we going to do? We can't keep going and paying and paying and paying and trying to make a living, too. This is what we do for a living.... We all have to make a living, and our living promotes growth and is good for everybody. It's more income for other people, and it just trickles on down the line. And if we shut this off, then who's going to benefit? The city's not going to benefit.
"If we stop growth, how does that benefit anybody?"
Yanez said he had no schedule for having the ordinance ready for formal review or approval but said it likely would take a couple of months.
Copyright 2018 The Lawrence Journal-World. All rights reserved. This material may not be published, broadcast, rewritten or redistributed. We strive to uphold our values for every story published.