In late 1940, pro football's Chicago Bears and Washington Redskins met in the final game of the regular season, a prelude to their East-West title match Dec. 8.
Washington won, 7-3, and the bookies had a field day establishing the 'Skins as solid favorites for the NFL title match.
The Redskins took the kickoff and, with quarterback Sammy Baugh in command, drove deep into Chicago's red zone. The Bears intercepted Sammy and roared to an astonishing 73-0 victory, the biggest margin in NFL playoff history.
After the humiliation, Baugh was asked what the score might have been if Washington had scored the first touchdown.
The hardscrabble Texan responded: "73-7."
(That was the game that put the T-formation on the map. The Bears with Sid Luckman featured it and Stanford hubbed by Frankie Albert whipped Nebraska in the Rose Bowl.)
Embarrassing, irredeemable blowouts occur in basketball, too.
Fast-forward to Stillwater, Okla., Monday night. OSU exploded from the gate to a startling lead and seldom missed. Could Kansas University respond to such a shelling? On this night, no chance.
OSU led, 28-9, when KU's J.R. Giddens scored a trey with 9:57 left in the half. A dunk by Wayne Simien cut it to 36-22 with about four minutes to go. Cut it to 12 and there was chance to get it under double-digits by intermission. Not.
Bryant Nash blew a dead-gut layup on the next possession, coach Bill Self drew a technical foul (maybe partly in frustration over Nash's clanker) and it was 44-26 at the half. Energized OSU cruised to an 80-60 victory against a drifting, unfocused, daydreaming KU club which had only Simien playing like a big leaguer.
What would the score have been if Nash had converted that bunny? Back to the Sammy Baugh analysis: How about 80-62?
The saddest aspect of that trip south was that the Jayhawks, who had looked as good as Oklahoma State in the rip of Texas Tech, didn't seem to care much about facing the challenge. Boy, did the television scenes of a couple Jayhawks grinning on the bench in the latter states ruffle a lot of fan feathers. What the heck could be humorous about that terrible display?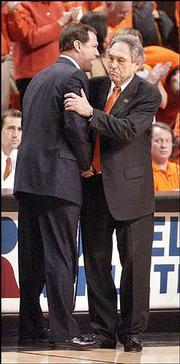 Sure, the Cowboys are quicker and faster and play fierce defense. But they got walloped at Texas Tech and could lose a couple more league games. Kansas has played well enough at times to deal with an opponent like that. When it really wants to. When's that, at Nebraska? Better be.
Bottom line was that O-State eagerly wanted the league leadership that KU seemed to be taking for granted. Too often KU has been playing not to lose rather than toughening up enough to seize victory. It's hard to see more than a couple wins in NCAA Tournament play at this stage. Toughness is in terribly short supply right now.
As for the Cowboys, give credit to the old Bucklin Bandit, coach Eddie Sutton, for assembling a club that's a far cry from anything his mentor, Hank Iba, turned out. I wondered if Hank would be spinning in his grave at the way the Cowboys were wheeling and dealing and popping from everywhere. Not your vintage Iba effort.
But credit Sutton for keeping up with the times, finding kids who can play the modern game and turning them loose. (By the way, Eddie was high point man when OSU, with Iba in command, upset Kansas with Wilt Chamberlain, 56-54, at "Stallwater" in 1957. Only KU losses were to Iowa State, OSU and North Carolina in the NCAA title game.)
When I pick my top-10 sports pictures, one will have Elroy "Crazy Legs" Hirsch as the subject. Legs, an NFL Hall of Famer, died recently at age 80.
Fans in Los Angeles adored Hirsch the way young girls did the Beatles and Frank Sinatra. He played his final game in 1957 in the Los Angeles Coliseum. Afterward a throng rushed out and flat-out stripped him to get a keepsake piece of his jersey, pants, almost anything.
The Coliseum has a long tunnel leading to the dressing rooms and a photographer caught Hirsch, all alone, striding along with nothing on but socks, a jock strap and dragging his shoulder pads. The lighting was dramatic, the moment was electric and I'll never understand why it's not printed more often. Never saw a better non-fatal example of fan frenzy. On this day, survival may have been nine points of the law.
In wartime, Legs played the 1942 season at Wisconsin before being transferred to Michigan to finish up. He later was Wisconsin athletic director.
Mark Harmon, who has become an outstanding actor, starred at quarterback for Kansas-ex Pepper Rodgers at UCLA in 1972 and 1973. He tells an amusing Heisman Trophy story.
His dad, Tom Harmon, won the Heisman as a great halfback at Michigan in the late 1930s. As Mark was growing up, he'd see the trophy displayed in their California home. The Harmons were friends with the likes of Chicago's Jay Berwanger and Army's Glenn Davis, also Heisman winners.
"The trophy at home never meant anything to me as a kid because we'd go visit the Berwangers and Davises and they'd have the same kind of thing on the piano," recalls Mark with a chuckle. "I just assumed it was something most football players had, kind of like a letter sweater. I never figured out until I was in my teens just how special it was."
Copyright 2018 The Lawrence Journal-World. All rights reserved. This material may not be published, broadcast, rewritten or redistributed. We strive to uphold our values for every story published.