Los Angeles — Baron Davis, the New Orleans Hornets' standout who used to wow the crowd across town at Pauley Pavilion, was a winner at Staples Center Saturday night in the NBA All-Stars skills challenge.
The team of Magic Johnson, Derek Fisher and Lisa Leslie won the Shooting Stars contest.
Davis, a former UCLA player, defeated Stephon Marbury, Earl Boykins and Fisher in the timed test of passing, dribbling and shooting.
Davis finished the course in 28.7 seconds in the first round, then wrapped up the win with a time of 31.6 in the second.
Fisher, filling in for Lakers teammate Gary Payton, had a time of 31.6 in the first round, but a missed jump shot cost him in the second and he was clocked in 37.6.
"It was pretty easy," Davis said. "I'm just partying and having fun. I haven't slept in two days."
Los Angeles repeated as the Shooting Stars champion, beating three other teams in the timed shooting contest.
Fisher's second try from just inside halfcourt arced high and into the basket as Johnson and Leslie yelled and clapped.
The Lakers shot from six designated spots in a time of 43.9 seconds, with Johnson good on two of his three shots, a 15-footer and a three-pointer.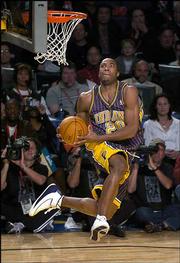 Jennifer Azzi, who just retired from the WNBA, had made the halfcourt shot at the 46-second mark to give the San Antonio Spurs the early lead at 46 seconds. With John Salley missing some 15 consecutive three-point shots -- and once just heaving the ball overhand at the rim in frustration -- the Pistons had a time of one minute, 5 seconds.
Then the Lakers went last and finished first.
"No pressure in my own building," Fisher said of what proved the winning shot.
Johnson said, "It's always great. Last year, we won and we came back and won again this year, so it's special."
Johnson, Fisher and Leslie each won $10,000, with the second-place Spurs getting $7,500 each.
Davis received $25,000 for winning the skills contest, and Fisher received $15,000 to run his total for the evening to $25,000.
Copyright 2018 The Associated Press. All rights reserved. This material may not be published, broadcast, rewritten or redistributed. We strive to uphold our values for every story published.