Since her baby Lily was born 1 1/2 years ago, Kristy Flanagan-Rubio has been swaying her hips and moving her arms and legs to drop 45 of her 50 pregnancy pounds.
"It's my only form of exercise," said the 23-year-old Riverside, Calif., homemaker. "But I really burn calories and work up a sweat."
Flanagan-Rubio is pumped about Polynesian dancing, a form of self-expression that attracts Inland Empire adherents for its fitness benefits and cultural significance. Students who stick with classes also enjoy the perk of performing at recitals, service clubs, festivals, graduations and private parties. Some schools incorporate a melange of native dances from Hawaii, New Zealand, Samoa and Tahiti.
Aileen Manalili said the number of students has doubled to 100 since she began teaching Hawaiian and Tahitian dance classes five years ago.
"They're definitely getting more popular as an alternative to ballet and tap," said Brenda Malick, who owns Puahi's Polynesian Dancers in Temecula, Calif. An instructor there for a decade, she's moving classes from her home to a studio next year -- with plans to expand her program. She said that especially in Tahitian dances, the rapid back-and-forth and side-to-side hip movements, called ami, offer the best cardiovascular and endurance exercises.
"It's more of a workout than aerobics," said Gerice DeGuire, 46, whose stage name is "Tiva." DeGuire, who has taught Polynesian dance for 25 years, offers lessons twice a week at her Riverside, Calif., home. After mastering basic steps, students progress to choreographed routines.
"They're best for toning the stomach, hips and legs," said Ricci Long, 53, who owns the Ori Tahiti Polynesian Dance Studio in San Bernardino, Calif. "The Maori (New Zealand) dances are great for the arms."
While swiveling the hips, dancers swing in each hand several poi balls on ropes, each weighing at least 6 ounces.
"You can lose a lot of fat under the arms, because the idea is to keep your arms moving above your head," DeGuire said.
Practice burns fat
Instructors emphasize that it's easier to melt away fat if dancers practice at home at least a half hour a day.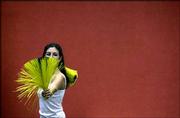 "You can bump while you're vacuuming and ami while you're washing dishes," DeGuire said.
One of her students, Teri Figueroa, 40, of Corona, Calif., said the dance movements also are great for improving rhythm, coordination and gracefulness.
"Dancing helped me overcome my fears and inhibitions about performing," she said. "And I've made some wonderful friends."
Camaraderie is a big motivator.
"It's like a family environment," Flanagan-Rubio said.
At a recent class in DeGuire's home led by teacher Faith Garcia, eight students, many wearing colorful pareos, or sarongs, worked on combinations set to recorded music, chanting or drumming. During some numbers, they hit sticks or small double-gourded drums against their hands.
The Hawaiian hula tends to be slower. While the hips rotate, sinuous arm and hand motions describe pictures in the air of the sea, stars, clouds, food gathering, tucking a flower in one's hair.
"Most Hawaiian stories are about nature, like picking seaweed on a beach," explained Garcia, 22.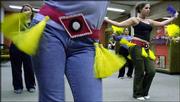 Accessible workout
Although anyone from tots to seniors can pick up Polynesian dances, some instructors advise against the more rigorous forms -- like Tahitian -- for people with bad knees or a weak back.
How difficult is it to master the moves?
"It takes some people one or two classes to feel comfortable with them," said Faith "Ka'alele" Solis, 25, who teaches at Riverside Community College. "It depends on how much you practice, your prior dance or aerobics experience."
Solis said beginners shouldn't worry about the hip motions.
"They'll move on their own," she said. "The basic movement is in the legs."
Most of her students -- eight young women dressed in sweats or yoga pants and T-shirts -- take back-to-back hula and Tahitian classes.
The latter dances are faster, with lots of vigorous hip action that leaves the women breathless and sweating after several routines.
"Now I know why Tahitians have such nice bodies," said Kristine Cabote, 20. "I want to tone up my abs."
Salina Tamayo, 22, a secretary for a trucking company, said she's pleased with the results.
"I've built up more muscles in my hips and butt," she said.
Copyright 2018 The Lawrence Journal-World. All rights reserved. This material may not be published, broadcast, rewritten or redistributed. We strive to uphold our values for every story published.