A planned public recreational trail from Clinton Lake to Topeka has become somewhat of a lightning rod in the Kansas Legislature, pitting landowners along the trail against groups behind the effort.
Proposed legislation would allow adjacent landowners to sue rails-to-trails organizations and hold their individual members personally liable for upkeep of the land on which the trails are built.
A nationwide effort, called the American Discovery Trail, is under way to build a coast-to-coast trail from Delaware to California, passing through Lawrence. The trail is being built on railroad rights of way where tracks have long ago been abandoned.
But Lawrence resident Clark Coan, secretary of the Kanza Rail-Trails Conservancy, said if the bill under consideration in Topeka were to be adopted into law, the likelihood of the trail passing through Kansas would remote.
"If people want the American Discovery Trail to come through town, they need to work to defeat this law," Coan said.
Landowners' laments
The bill is supported by private landowners, including Berryton farmer Harold Lutz.
A 100-foot wide strip of land overgrown with weeds and full of fire hazards such as brush, fallen trees and deteriorating railroad ties runs through Lutz's property. Lutz says there's nothing he can do about the problems on the railroad right of way.
"I can't go in and clean up the rest of the trail that goes through my property because it's not mine," Lutz said.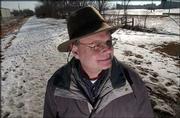 The property is owned by Coan's organization.
Due to several obstacles, the nonprofit group has been unable to develop the strip that runs through Lutz's property in Berryton, conservancy officials say.
But Lutz, and other property owners, may soon be able to take the group to court. The House Environment Committee heard testimony Tuesday on the bill.
Kansas law now requires the trail groups to provide for safety, signs, litter control, fire hazard control, law enforcement, fencing, wood control, and to maintain all bridges, culverts and roadway intersections of the trail.
But currently only cities or counties have the ability to bring action against the trail owners to enforce the provisions of the law.
Lutz and others want that to change, so that they, too, can sue.
Opponents of the bill say it could undermine efforts all across the state to develop recreational trails.
"This bill has the potential to destroy all trails in Kansas," said Frank Meyer, president of the Kanza Rail-Trails Conservancy. "It would have a chilling effect on recreational activities."
Vandals stem progress
Meyer said the conservancy has tried to fulfill all of its responsibilities, but vandalism has limited progress. Vandals dumped a truckload of lumber on the trail and burned bridges doing $25,000 to $30,000 in damage a year and a half ago, he said. The group installed a handrail bridge in Berryton last spring, and within a week it was destroyed, he said.
"If it hadn't been for the obstacles, we would be a third of the way to Clinton Lake, with plans to finish it up next year," Meyer said. The plan for the trail is to reach from Topeka to the Clinton Lake area.
Meyer's group was one of 13 that testified against the proposed bill.
Michael Goodwin, president of the Kansas Trails Council, also testified against the bill.
Even though the council is not involved in any rails-to-trails projects currently, Goodwin said many of the members of his organization were active with other groups involved in such projects.
The fear of litigation posed by the proposed bill could keep volunteers from helping with any trail organizations, he said.
"It's not so much that you would be sued, but just the possibility of being sued -- you'd have to hire an attorney. It would be very costly for most people and they would cease being members," Goodwin said.
Access question
Stephen Garlow, Friends of the Kaw board member, said the legislation was problematic because private landowners were trying to create impediments to the public access and use of a public recreational asset.
"This legislation threatens an eco-tourism asset in Kansas, and that's the Kanza trail," Garlow said. "We believe it should be built and this legislation threatens that."
But for Lutz, it comes down to an issue of responsibility.
"Our frustration here, frankly, is we have put up with this for 15 years," Lutz said. "If you're not going to build a trail, give it to me and I'll clean it up. We're willing to pay the taxes on it, clean it up and be responsible for it. The bottom line is that they're not being responsible."
Copyright 2018 The Lawrence Journal-World. All rights reserved. This material may not be published, broadcast, rewritten or redistributed. We strive to uphold our values for every story published.