Whimsical dishes are not a 21st-century idea.
Pitchers that look like a bird or a man's head, covered bowls shaped like a hen on a nest, and camel-shaped teapots were all made years ago.
Schafer and Vater, a porcelain factory in Rudolstadt, Germany, was founded in 1896. It made hundreds of different comical pieces. Small whiskey flasks shaped like elongated dancers; an ashtray shaped like a man's head, with the cigarette smoke rising from a hole in the nose; a shaving mug that looked like a sphinx head; and cups that looked like smiling faces were all part of Schafer and Vater's production.
An unusual tea set was made with teapot, creamer and sugar shaped like women's heads. The handles were braids of hair, and the lids were fancy hairdos with a wreath and braids. The teapot could have been the inspiration for the teapot in Disney's version of "Beauty and the Beast." The curved spout is the nose. The teapot, sugar and creamer sell as a set for about $800.
When and how were dress clips used?
Dress clips were introduced in the late 1920s. The sweetheart neckline was in fashion, and the clips were worn on each side of the neckline. Clips with extra-long prongs were made for collars on fur coats. They gave glamour to shoes, purses, hats and belts. Pairs of costume-jewelry dress clips were out of style by the 1940s.
My elderly aunt has given me a pile of her old tablecloths. Some are long and beautiful linen cloths that I want to keep and use. Others are smaller squares made of cotton and covered with printed floral or fruit designs. There's even one decorated with a map of Florida and its tourist sites. Should I save these or sell them?
Save them, use them or sell them -- but don't throw them out. Brightly colored cotton or linen tablecloths and even dish towels from the 1940s are selling at flea markets and garage sales. Map tablecloths are especially popular today, and if your Florida cloth is in excellent shape, it could sell for close to $75.
I have an unusual lamp, marked "Eveready Sunshine." It gives very little light but lots of heat.
You have a special type of sunlamp, made about 1928. Ads promoted the health benefits of sitting near the lamp in the winter to get the advantage of artificial sunshine.
My mother left me a silver tea strainer. My sister-in-law tells me it's a tea ball, not a strainer. Is there a difference? It's hollow and round like a ball, but it has tiny holes all over and a hinged opening. It hangs from a chain.
You have a tea ball, also called a tea infuser. Technically, it is a type of strainer. After tea was brought to Europe from China in the 16th century, Europeans wanted to strain the leaves from the beverage. They designed strainer spoons (held at a potspout), cup strainers (placed over the edge of a teacup) and spout strainers (inserted into the end of the spout). Tea balls were invented in the mid-1800s. They hold tea leaves in the pot for brewing and prevent the leaves from spreading throughout the tea -- so they keep the leaves "strained" from the beverage. Tea strainers and balls are sought by collectors of tea-related antiques.
How old is Pyrex ware? Is it a good thing to collect?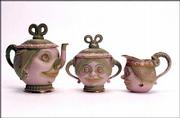 Pyrex is a heat-resistant glass first made in 1915 by Corning Glass Works of Corning, N.Y. It could be used right from the refrigerator to the oven. Pyrex was clear until after World War II, when mixing bowls in primary colors were introduced. Pyrex or Pyrex-type bowls sell from $65 to $100 a set. By the 1950s, flowers or bands were added as decorations. Daisy, Bluebird, Garland and Butterprint were other designs. Many of the bowls were made to fit into chrome or silver-plated holders. Collectors are just starting to buy Pyrex to admire, not just to use. It can still be found at bargain prices.
My father-in-law has an antique wooden puzzle that he has been trying to solve. It's called "Dad's Puzzler." He has the original box, which says the game was manufactured by the Standard Trailer Co., of Cambridge Springs, Pa. Inside, there are nine rectangular blocks, some square and some oblong. The object is to move the large square at the top to the bottom without lifting any of them. Can you give us any information on this puzzle?
Your father-in-law's puzzle is a classic "sliding block" puzzle. You might be familiar with the small plastic "Puzzle of 15" -- the kind that has 15 numbers on squares that you move around until they're in order. Dad's Puzzler first appeared in 1909 and might have been the first sliding-block puzzle with oblong pieces as well as squares. It was widely used as an advertising premium during the 1920s. One like yours sells for about $10. Solving the puzzle takes close to 60 moves, at a minimum. But it can be done.
Tip
To hang an old tin tray, use a wire plate holder. The bent parts that touch the tray should be covered with plastic tubing. Thin tubing is sold for use in fish aquariums.
Current prices are recorded from antiques shows, flea markets, sales and auctions throughout the United States. Prices vary in different locations because of local economic conditions.¢ Spode sauceboat, blue and white, covered, Tower pattern, 6 3/4 inches, $75.¢ English silver hairbrush, faces of angels in clouds, Chester, 1905, 9 3/4 inches, $110.¢ Nickel-plated handlebar-mounted bicycle bell with embossed image of Boy Scout, "Be Prepared," 2 1/2 inches, $375.¢ Lalique perfume bottle, L'Air du Temps, Nina Ricci, entwined birds, stopper, 1947, 3 inches, $425.¢ Cast-iron mechanical bank, pig in highchair, bank flips penny into pig's mouth from tray, nickel-plated, repainted, 1897, 6 inches, $430.¢ Embroidered linen purse, brown linen with red yarn fringe, embroidered "Sarah Ann Padget, When this you see, Remember me," 1832, 10 1/2 x 12 inches, $635.¢ Royal Doulton charger, Babes in Woods, mother and daughter on snowy path, c. 1900, 13 inches, $690.¢ Carved rosewood settee, serpentine-outlined rail, basket-of-flowers crest, cluster of fruit, tufted back, red velvet, c. 1855, 41 x 67 inches, $1,610.
Copyright 2018 The Lawrence Journal-World. All rights reserved. This material may not be published, broadcast, rewritten or redistributed. We strive to uphold our values for every story published.