LINCOLN, NEB. — Barry Collier isn't worried about his job security at Nebraska, so he says his players shouldn't be concerned, either.
"Don't play for my job," Collier, Nebraska's fourth-year basketball coach with a 51-57 record, told his Cornhuskers recently after the squad fell to 1-6 in Big 12 Conference play. "The basis of this program is we have faith in what we're doing.
"We have faith in each other and know things are going to work out as they should," he told the Omaha World-Herald. "There's every reason to believe great things can happen."
Good things have happened lately for the Huskers (13-7, 3-6), who take a two-game league win streak -- a home victory over Missouri and conquest at Texas A&M; -- into today's battle against Kansas University (15-5, 7-2).
Tipoff is 12:30 p.m. at Devaney Center with a live telecast on ABC (channels 9, 49).
The Huskers appear to be on target for a bid to the Postseason NIT, which would mark NU's first postseason appearance since 1999.
"The coaching staff has kept this team together," senior guard Nate Johnson said.
Collier, who had great success as coach at his alma mater, Butler, has won over his players, but not the fans. NU averages just 6,738 fans through 13 home dates at 27-year-old Devaney Center, which seats 13,500. NU's all-time low attendance mark is 7,341, set in former coach Danny Nee's final season of 1999-2000.
Today's game is listed as a sellout.
"We're not anywhere near where we want to be," Collier said, "but you can't get there three or four (wins) at a time. You have to take care of business today.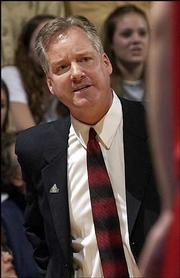 "We've been trying to get to the next level, and we felt we improved through the preseason and were in solid shape and prepared for the league. We played some good basketball in the league, but not enough to break through often enough. This gives us a little more confidence."
Athletic director Steve Pederson, who did not hire Collier, has yet to give his coach a vote of confidence.
Marc Boehm, NU's executive associate AD approves, sort of. After all, NU has top-quality wins over Arizona State, Tennessee and Minnesota, but a loss to in-state rival Creighton.
"There are a lot of things pointing in the right direction," Boehm told the Omaha paper. "From a year ago to now, we're a much better team. I would give recruiting an A. The enthusiasm and what the coaching staff has done, it's night and day. The NIT would be a great step."
NU can all but assure itself an NIT bid with a victory over No. 12-ranked KU. The Huskers' chances likely rest on one factor: three-point shooting.
"If Nebraska is making its threes, the Huskers have a chance to win," Omaha World-Herald columnist Tom Shatel wrote recently of the Huskers' chances in any game. "If they aren't, they don't."
For the year, NU has made 140 of 349 for 40.1 percent. Three-point shots likely would energize NU's crowd today.
"We're at home and we appreciate the crowd we had last week against Missouri," Collier said of a season-high throng of 9,614. "We'd like to go ahead and fill that thing up and get everybody involved in the game because that will help us a ton."
¢
Neal on fire: Junior-college transfer Marcus Neal, a 6-foot guard from Annapolis, Md., has scored 37 points the past three games after totaling just 52 in his first 17 games as a Husker.
"He's an experienced player who has waited his turn and has tried to help our basketball team," Collier said. "He never panicked or pouted when he wasn't playing much. We're just kind of searching for the hot hand while still trying give a good amount of rest to people so they can go hard when they are in there."
¢
Road success: Nebraska snapped a 13-game conference road losing streak Wednesday at Texas A&M.; The Huskers hit 32 of 37 free throws in an 83-77 decision.
"To win on the road in this league is like trying to lick your elbow. It's tough," Collier said.
Copyright 2018 The Lawrence Journal-World. All rights reserved. This material may not be published, broadcast, rewritten or redistributed. We strive to uphold our values for every story published.