Shawnee — When Betty Roberts' 30-year battle with lupus finally forced her out of her home, she went first to a hospital and then to a nursing and rehabilitation center.
In the spring of 2002, Roberts' children convinced her to move into The Sweet Life at Rosehill, a new nursing home in an enclosed village that offers such amenities as private suites, a movie theater, gourmet meals, a chapel and a beauty salon, along with an on-site rehabilitation and a licensed nursing staff.
Although Roberts, 77, said she still hopes to return to her Kansas City, Kan., home, she appreciates the atmosphere at The Sweet Life.
"They've treated me very well," she said. "My friends and family like visiting. It's a nice place to be if you have to be away from home."
Industry movement
Roberts is the beneficiary of movement throughout the adult-care industry away from sterile, hospital-like nursing homes to living arrangements that combine comfort, companionship and health care.
Experts in adult care say the movement is driven by three factors: an increasing population of elderly; more attention to residents' rights in response to reports of nursing home abuses; and demands from baby boomers who want the best care for their parents.
"There used to be a perception that nursing homes were where people were 'put away,'" said Robert Bornstein, a psychology professor at Gettysburg College in Pennsylvania who co-authored a book "When Someone You Love Needs Nursing Home, Assisted Living or In-Home Care."
"We've moved away from that notion to helping them find a place where they can be happy and their families can be comfortable. The children are often part of the decision, but a majority of those going into assisted living now are going voluntarily."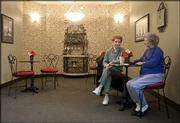 'Warm and welcoming'
Jeff Cleveland, one of four owners of The Sweet Life, said such adult-care centers are designed to make the residents and their families comfortable with one of life's most difficult decisions.
"We do everything we can to make it warm and welcoming," Cleveland said. "It can't be home, but we do what we can to make it look and feel like home."
Besides the amenities, the village also offers a clean, open layout, with wide hallways, comfortable furniture, large televisions, spacious dining areas and high ceilings. The residents bring some of their own furniture to their rooms, and there are private dining areas for special occasions. Grandchildren, and pets, are welcome to visit.
The trend toward more homelike adult care began in the 1990s, especially in urban areas and in states with large elderly populations. The market for high-end assisted-living areas was saturated in the late '90s but has rebounded in recent years, said Doug Pace, director of assisted living and continuing care for American Association of Homes and Services for the Aging, in Washington.
In 2002, about 1 million people lived in 36,399 licensed facilities generally considered assisted-living operations, which do not include skilled-care nursing homes, Pace said. That was an increase from 24,572 such centers in 1998.
Cost concerns
The drawback is that homes that offer more amenities cost more, Pace said, and government programs such as Medicare and Medicaid pay little, if any, of the costs.
"Many people are now working on ways to build more affordable models for middle-income people," he said. "The growth of the elderly population is only going to continue, so that is driving a lot of the current work in the industry."
The average price for adult care of any kind is $29,000 a year, but some of the higher-end villages can cost up to $60,000 a year. At The Sweet Life at Rosehill, residents pay between $145 to $200 per day -- or $52,925 to $73,000 a year -- depending on the size of room and other needs.
Susan Hughes, a community health sciences professor at the University of Illinois at Chicago, said 47 percent of people 65 and older have annual incomes of less than $29,000.
"We are hoping that providers are chomping at the bit to develop affordable assisted living," Hughes said. "The market is close to saturation, and that's forcing new people into the market who will be more competitive. That's going to be a win-win for consumers."
Providing a continuum of care in one location is the newest wave in adult care, said Bornstein.
"That's kind of an ideal setup, including every step of the process that people may need before their deaths," he said. "It's a healthy trend, driven more by keeping life happy, rather than keeping residents well-behaved. It's a great thing for those of us who are going to need these things down the road."
Copyright 2018 The Associated Press. All rights reserved. This material may not be published, broadcast, rewritten or redistributed. We strive to uphold our values for every story published.