San Francisco — In an open challenge to California law, city authorities performed scores of same-sex weddings Thursday and issued a stack of marriage licenses to gay and lesbian couples.
Applause filled the marble passages under City Hall's ornate gold dome as jubilant same-sex couples breezed through brief ceremonies, promising to be "spouse for life" to partners some had loved without marriage for decades.
"Today a barrier to true justice has been removed," said Gavin Newsom, newly elected mayor of the city considered the capital of gay America.
No state legally sanctions gay marriage, and it remains unclear what practical value the marriage licenses will have. The weddings violate a ballot measure California voters approved in 2000 that defines marriage as a union between a man and a woman.
The move by San Francisco's mayor came as lawmakers in Massachusetts debated a constitutional amendment to ban gay marriage in that state, where the nation's first legally recognized same-sex weddings are set to take place this spring under a ruling from the Massachusetts high court.
In San Francisco, many couples started their day with no idea they would be wed by evening, and joked about rushing to City Hall as word spread.
"There is a part that doesn't feel romantic at all, but obviously it feels historic," said Guillermo Guerra, 29, who married Andrew Parsons, 39, his partner of eight years.
The day began quietly with the morning nuptials of longtime lesbian advocates Phyllis Lyon, 79, and Del Martin, 83, who were hurriedly issued a married license and wed just before noon by City Assessor Mabel Teng in a closed-door civil ceremony at City Hall. The two have been a couple for 51 years.
By the end of the day, 87 marriage ceremonies were performed, and 95 marriage licenses had been issued.
A conservative group called the Campaign for California Families called the marriages a sham.
"These unlawful certificates are not worth the paper they are printed on. The renegade mayor of San Francisco has no authority to do this," said Randy Thomasson, executive director.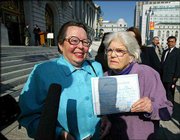 Copyright 2018 The Associated Press. All rights reserved. This material may not be published, broadcast, rewritten or redistributed. We strive to uphold our values for every story published.