Daytona Beach, Fla. — Dale Earnhardt Jr. sent a message Thursday to the rest of the field for the Daytona 500 -- look out for Junior.
"I think I've got the best car here," he said.
Junior left teammate Michael Waltrip in his wake for an easy victory in the first of the twin 125-mile qualifying races at Daytona International Speedway.
"He was by far the class of the field," said Tony Stewart, who wound up finishing second to Earnhardt in the opener.
Waltrip, the defending 500 champion and winner of two of the last three editions of NASCAR's biggest event, faded after leading early but still came in fourth, just behind Jamie McMurray, last year's top rookie.
After Elliott Sadler won the second race -- even more easily than Earnhardt -- the Robert Yates Racing driver insisted that he was just as much of a favorite as Junior.
"I out-qualified him, and I won my race, too," said Sadler who, along with pole-winner Greg Biffle locked up starting spots on the front row in Sunday's qualifying.
"I know everybody at Daytona is picking him the favorite, and that's cool," he said. "I don't mind being the underdog. Nobody picked me to win the second race, and we went out and did that."
It was the first win of any kind for Sadler at Daytona, while Junior picked up his seventh checkered flag and second straight qualifying victory at the track where his late father won a record 34 times.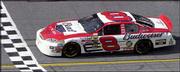 But Earnhardt has yet to win a Daytona 500, a race his father won in 1998 on his 20th try.
"I don't want to have to keep on coming close, coming close and lose it," Junior said. "It was hard on my dad. It was even hard on us kids, wanting to win and not knowing when it would happen. I don't want be here 20 years later and coming so close to winning that I can't stand it."
Junior was a favorite each of the last three years, but finished second to Waltrip in 2001, 29th in 2002 and 36th in last year's rain-shortened race after losing ground to an electrical problem.
So Earnhardt doesn't want to get overconfident.
"The only thing I'm excited about is that I just got one step closer to winning more races than my daddy ever did here," he said.
Earnhardt won Thursday without any drafting help from Waltrip. Although the Dale Earnhardt Inc. drivers often work together at Daytona, Junior took the lead from Waltrip on lap 37, pulled far ahead and stayed out front the rest of the way.
"I knew when we got new tires that if I was going to get past Michael I was going to have to do it real fast," Earnhardt said. "I was real lucky there to be able to get under him, and he got backed up behind Jeff (Gordon)."
Earnhardt, who earned the third spot on the 43-car grid for Sunday's NASCAR Nextel Cup opener, got a brief challenge from Stewart at the end of the 50-lap race, but easily held on to win by 0.245-seconds -- about three car-lengths.
Tony Eury Sr., Earnhardt's crew chief, criticized Waltrip for not working with his DEI teammate. But Junior and Waltrip both shrugged it off.
"Me and Michael will draft fine for the future," Junior said. "We just didn't today."
Waltrip added: "I love Dale Jr., and we've found a lot of success together, and that will continue in the future."
The two DEI drivers, who usually dominate at Daytona and Talladega, the two big tracks where NASCAR requires horsepower-sapping carburetor restrictor plates, go into Sunday having won eight of the last 10 plate races, including three of four last year.
Sadler started from the pole in the second qualifier. He trailed Ricky Rudd in the early going, took the lead back on lap 24, lost it briefly during a series of green flag pit stops and then took control for good on lap 38.
Thursday's races determined positions 3 through 30, with the rest of the lineup filled from the qualifying Sunday and last year's car-owner points.
Copyright 2018 The Associated Press. All rights reserved. This material may not be published, broadcast, rewritten or redistributed. We strive to uphold our values for every story published.