On a memorable day when media magnet Bob Knight was in town and on a momentous day when athletic director Lew Perkins revealed a staggering $12 million gift to the Kansas University athletic department, I couldn't help but notice a nobody.
OK, so Christian Moody isn't really a nobody, at least not if you're a Kansas University men's basketball fan. But, in the big picture, Moody is just one of those faceless walk-ons at the end of the KU bench who play only at mop-up time.
Check the box score of Saturday's Kansas-Texas Tech game. Moody's name will appear near the bottom. Now check it closely. Seven minutes, seven points, four rebounds and one steal.
Yep, it was a career game for the 6-foot-8 sophomore from Asheville, N.C., aka the birthplace of the Roy Williams who isn't the University of Texas football wide receiver or the Dallas Cowboys' defensive back.
What's the big deal about a walk-on scoring seven points during mop-up time? Nothing, really ... but Moody didn't do his damage when the win was in the bag. Moody was sent on to the floor by KU coach Bill Self at a crucial juncture.
On the Allen Fieldhouse scoreboard, the clock showed 13:21 remaining. KU led by 11 at that point, but the foul-prone Jeff Graves had just been called for his fourth infraction.
Who would Self send in? Would it be Bryant Nash, Moulaye Niang or Moody? Those were the options. Sometimes, when Graves is in deep foul trouble, Self goes to Nash. Other times he has gone to Niang. But on a couple of other occasions, Self had tapped Moody.
"To tell the truth, I didn't know if I'd go in," Moody said. "Moulaye and Bryant have had great practices. When Jeff got his fourth foul, we all wondered who would go in."
If the north end of the KU bench were a bullpen, then Moody, Niang and Nash hardly would qualify as closers. They'd be more like journeymen middle relievers who can be effective if used at the right time against the right opponent.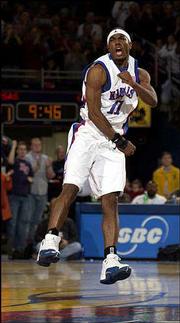 So it was with Moody. Texas Tech was the right team, and that point in the game was the right time.
During the next five minutes on the game clock, the Jayhawks outscored Texas Tech, 11-0, and basically blew the game open. They did it with Moody on the floor the whole time. When Moody departed with 8:24 remaining, KU led by 20.
Moody didn't win the game single-handed, obviously. J.R. Giddens, David Padgett and Wayne Simien were the big guns, yet Moody had made such an impressive and unexpected contribution that I thought he deserved some ink.
So I put Moody's name on the list of players requested by the media to troop over to Hadl Auditorium for post-game interviews. Moody did a double-take when he was informed his presence had been requested.
"I didn't even know where to go," Moody told me. "I just followed David and J.R. They seemed to know where to go."
Despite his inexperience in the spotlight, Moody held his own, answering question after question. Even the electronic media descended on him.
"It was weird having that light in my face," Moody said, not realizing that mobile TV cameras are mounted with bright lights for interview purposes. "But it was fun."
Momentarily, Self came into the auditorium for his post-game media session. As he did, he walked past Moody and quipped with a smile: "I'll bet you didn't expect to be the last player out of here."
Moody actually was next-to-last, but Self hadn't seen Aaron Miles on the other side of the room.
Earlier, Miles had said he had more confidence in Moody than Moody had in himself. Informed of that comment, Moody said, "Aaron probably has more confidence in most players than they have in themselves."
If Moody didn't gain a healthy does of confidence Saturday afternoon, then he isn't human. Still, he knows his role. The first question they usually ask a walk-on after he has a noteworthy game is if he hoped to earn a scholarship.
"I'd be overjoyed," Moody replied to the inevitable question, "but if I don't get one that means coach can give a scholarship to a great player."
It takes a special person to serve while sitting and waiting. That's what Moody and the other walk-ons do. They step into the limelight about as often as KU athletics receives a $12 million gift.
Saturday was one of those days.
Copyright 2018 The Lawrence Journal-World. All rights reserved. This material may not be published, broadcast, rewritten or redistributed. We strive to uphold our values for every story published.