STILLWATER, OKLA. — Texas has put together another convincing claim to the nation's top ranking. Now, it's up to the voters.
Heather Schreiber scored 19, and Jamie Carey had 13, leading No. 3 Texas to a 75-52 rout Saturday of Oklahoma State. The Longhorns also moved to the brink of their first No. 1 ranking in more than 17 years.
"We've been leapfrogged a couple of times," UT coach Jody Conradt said. "We beat Tennessee and Duke early, and people have forgotten that. It's always been about what you have done for me lately in the polls."
Texas (21-2, 9-1 Big 12 Conference) won its seventh straight and extended its conference lead over No. 11 Colorado to a game.
The Longhorns, who haven't been ranked No. 1 since December 1987, could become the nation's top-ranked team following losses earlier this week by No. 1 Tennessee and No. 2 Duke.
"I think we're the best team in the nation," guard Nina Norman said.
However, fourth-ranked Connecticut is a traditional voters' favorite and could move past Texas on the strength of its impressive 14-point win over the Vols earlier in the week.
OSU coach Julie Goodenough had no doubt which team should be in the top spot.
"I would vote for Texas," Goodenough said. "I've played against them twice already, and they're worthy. They beat Duke and Tennessee -- that's enough to be No. 1 in the country."
Oklahoma State (8-13, 3-7) ranks at the bottom of the conference in the most important categories: scoring, scoring defense, turnover margin and assist-to-turnover ratio.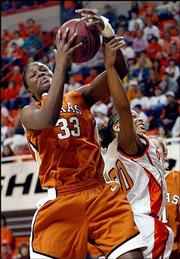 Oklahoma State forward Trisha Skibbe, the Big 12's scoring leader, had 15 points and six rebounds.
"They were just too physical and too strong," OSU guard Nina Stone said. "There's not much we could do."
Missouri 81, Iowa State 62
Ames, Iowa -- Evan Unrau scored 19 points, and Missouri pulled away in the second half.
MyEsha Perkins and Stretch James each added 18 points for Missouri (12-8, 3-6).
Katie Robinette and Lisa Kriener led Iowa State (10-10, 3-6) with 13 points each.
Oklahoma 56, Texas A&M; 46
Norman, Okla. -- Maria Villaroel scored 19 points, and Caton Hill had 12 points and 11 rebounds, helping Oklahoma end a four-game losing streak.
Dionnah Jackson added 13 points as the Sooners (14-6, 4-5 Big 12) stopped their longest losing streak since 1998.
Tamea Scales had 17 points to lead Texas A&M; (8-13, 1-9).
Copyright 2018 The Associated Press. All rights reserved. This material may not be published, broadcast, rewritten or redistributed. We strive to uphold our values for every story published.