STANFORD, CALIF. — Nick Robinson scooped up the ball, glanced at the clock, took a couple of dribbles and let it fly. A roar followed, then he was engulfed by a delirious crowd that included Stanford alumnus Tiger Woods.
Third-stringer Robinson hit a running three-pointer from about 35 feet at the buzzer, and No. 2 Stanford survived a late scare to defeat No. 12 Arizona, 80-77, Saturday and remain one of the nation's two undefeated Division One teams.
The Cardinal, who tied a school record with their 20th straight victory, came from four points behind in the final minute after Arizona went on a 19-6 run to take the lead.
The winning shot was set up when Robinson and Matt Lottich trapped Arizona's Salim Stoudamire, knocking the ball loose.
"The ball was suddenly in front of me. I looked at the clock, and there was two seconds left. I went right for the basket. I knew I had to get a shot off," said Robinson, who started at forward only because of leg injuries to Justin Davis and Matt Haryasz.
The crowd stormed the court to surround the Cardinal (20-0, 11-0 Pac-10). Woods came onto the court to celebrate for a few seconds, then was escorted away from the mayhem by a friend.
"I was flat on my back, Lottich was on top of me," said Robinson, who had only five points before his winning shot. "And a couple of other people were on top of me in places that were rather uncomfortable."
The loss ended a streak of four straight wins for Arizona (14-6, 6-5) at Stanford's Maples Pavilion, where hundreds of students camped outside starting Tuesday.
"We didn't take care of ourselves in the last minute," said Arizona's Channing Frye, who had a three-pointer and dunk to cap a 14-0 run that gave the Wildcats a 72-67 lead with less than four minutes remaining. "We should have beat them and could have beat them in this game, we've done it before."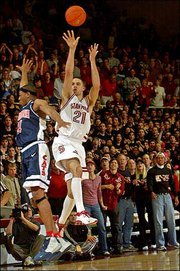 With Stanford trailing 77-73, Josh Childress made one of two free throws with 43 seconds left. A steal by Lottich then led to Childress' three-pointer from the corner to tie the game with 24 seconds to go.
Stoudamire had 24 points for the Wildcats, including a long three-pointer that gave Arizona the 77-73 lead with 58 seconds left.
"To be down by four that late and to come back, that's just luck in that situation. I'm starting to think this group is something special. It was an unbelievable game," Stanford coach Mike Montgomery said.
"This is just another step in what's turning out to be a doggone good season."
Copyright 2018 The Associated Press. All rights reserved. This material may not be published, broadcast, rewritten or redistributed. We strive to uphold our values for every story published.