KalScott Engineering's shop in southeast Lawrence looks like a deluxe playpen for a remote-control airplane enthusiast.
But this is no toy shop. The planes -- which look like model aircraft on steroids -- aren't designed to be flown by some 12-year-old or a hobby pilot.
They're mainly made for soldiers and spies.
The planes are called Unmanned Aerial Vehicles (UAV), which means they fly without a pilot in the cockpit. They're flown by computer software using global positioning system technology or, in some cases, a remote control device.
"This is definitely the next chapter in aviation history," said Suman Saripalli, KalScott's director of new business. "There is no question about that."
The U.S. government has bought into the vision. The military is interested in using the vehicles to fly intelligence cameras into enemy territory. Eventually -- perhaps by 2007 according to government estimates -- they'll be equipped with weapons and become fighting machines. Science organizations, like NASA and the National Science Foundation, hope to use the planes to fly over places like Antarctica for mapping programs.
Saripalli said the uses were endless.
"People in the industry say they're great for dull, dirty or dangerous missions, and there are a lot of those these days," Saripalli said.
That has Saripalli believing that KalScott, which has four employees at its offices at 920 1/2 E. 28th St., has its best days ahead. Since the company was founded in February 2002, its revenues have grown to $1 million in 2003. It expects revenues of $2 million in 2004.
Saving lives
Daryl Davidson, executive director of the Association for Unmanned Vehicle Systems International, said there was good reason for the optimism.
He said the U.S. military had jumped on the UAV bandwagon and wasn't likely to jump off anytime soon.
"The public is unwilling to accept casualties and loss of life anymore," Davidson said. "Traditionally those were just factors of war, but people now realize that if we can put a robot in the field and save lives, then, by golly, that's what we're going to do."
Spending plans back up that thinking. President Bush's proposed Pentagon budget calls for $2 billion worth of UAV purchases in 2005, up from $1.3 billion this year.
Davidson said the military began looking at UAVs during the Vietnam conflict, but the war ended before the technology made it to the field. Davidson said the idea basically died until the Persian Gulf War in the early 1990s.
"For the first time in modern warfare, we got to put UAVs in the field and see what they can do well and what they can't do well," Davidson said.
But the technology really began soaring in popularity about two years ago. Davidson said his association's annual conference went from 1,800 participants in 2002 to 3,000 participants last year. More are expected this year.
Davidson said he believed the military's use of UAVs would begin pushing the technology into the mainstream. He said organizations related to law enforcement and homeland security were using UAVs. But, he said, the biggest market for the devices would be the private sector.
During the next 15 to 20 years, Davidson sees a world where gas and oil companies will use the vehicles to monitor their pipelines; news organizations will replace their traffic helicopters with the machines; and companies like FedEx will use larger unmanned planes to deliver overnight packages.
"Anything you can do with an airplane, you can probably do with a UAV," Davidson said. "There's going to be a vast proliferation."
A living room idea
Saripalli had the same vision when he teamed in 2002 with Tom Sherwood, a Kansas University doctoral student who now serves as KalScott's president.
Saripalli has a mechanical engineering degree from India and a master's degree in business administration from KU. Sherwood has several aerospace engineering degrees from KU. The two had worked together at an area aviation-related firm.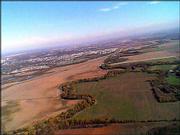 Saripalli, a remote control airplane hobbyist who estimates he has 500 engines and about 100 planes, had been following the development of UAVs from a distance. When he learned Sherwood was looking to change the direction of his career, the idea for KalScott was born.
"I said let's do this for a couple of years and see if something comes of it," Saripalli said. "It seems like something has come from it."
The company got started in Saripalli's living room when the two put together an application for a federal Small Business Innovation Research grant for a project that would design an engine for a UAV.
They received the $70,000 grant and now they have three projects for three large government agencies -- the Department of Defense, NASA and the National Science Foundation.
"This has really exceeded all my expectations," Sherwood said. "We have grown much faster than I expected. We've doubled our revenue every year, and we expect to double it again."
Critical juncture
But, in a sense, the company is still waiting to take off. All three projects are still in the research and development phase, and a large portion of the company's revenues come from government grants, not product sales.
Company officials said they were excited about the projects and hoped they would lead to more business. The first is a plane for the Department of Defense that is designed to carry military intelligence devices. The second is a project for the National Science Foundation that is attempting to design a plane that can travel long distances for jobs like the Antarctica mapping project. The third is for NASA, which is interested in a UAV that can better react to different weather patterns.
"Our name is out there now and that seems to have opened a lot of doors," Sherwood said.
How big the company becomes, though, is still a question that is up in the air. Saripalli said the company was examining its long-term business strategy. If the company chooses to focus on being a design firm for UAVs, Saripalli predicted its employee totals would remain small.
Saripalli said KalScott hasn't ruled out becoming a manufacturer of the products it designs. He said the company may build UAVs and rent them out and fly them for private companies that need them for occasional uses. If the company follows that business path, it could need 20 or more employees in the Lawrence area.
"We have several irons in the fire right now," Saripalli said. "I think these next two years will be a critical period for us."
Becoming a major force in the UAV industry won't be easy. Large companies like Boeing and Northrop Grumman, have invested in UAV programs.
Davidson said small companies like KalScott, which isn't a member of his association, can be successful in the industry. He said many of his group's 3,000 members were "just a level above" mom-and-pop companies. He said many were thriving by focusing on creating a specific component and then becoming a supplier for major aerospace companies. Some, who have developed entire vehicles, have been bought by large companies.
"This is a very technology-driven industry," Davidson said. "If you have the right technology, you'll do very well."
Copyright 2018 The Lawrence Journal-World. All rights reserved. This material may not be published, broadcast, rewritten or redistributed. We strive to uphold our values for every story published.