Kansas University's season-high 96-point scoring explosion might have surprised some of the fans Saturday in Allen Fieldhouse.
Not the KU men's basketball players, however, who figured they were long overdue for a game just like their 96-77 rout of Texas Tech.
"I thought it was just a matter of time we had an offensive game like that," KU freshman center David Padgett said after scoring 16 points -- his career high against an NCAA Division One team. "I think the players all knew we were capable of that."
The Jayhawks (15-4 overall, 7-1 Big 12 Conference) bettered their season scoring average by 22 points.
KU freshman J.R. Giddens tied his career high with 18 points, while Wayne Simien grabbed a career-best 17 rebounds to go with 22 points as the Jayhawks hit the 90-point mark for the first time since a 90-76 victory over Tennessee Chattanooga Nov. 21.
The outburst came against a defensive Bob Knight-coached Red Raider team (17-5, 5-3) that had allowed just 62.9 points per contest coming in.
"We pretty much felt we could score at any time," said power forward Simien, who hit eight of 13 shots on a day KU canned 36 of 71 shots (50.7 percent), including nine of 20 threes. "I think it's the first time this year we felt we could do that. We had them on their toes today. ... We were in a rhythm."
Outside shooting -- Padgett hit three long jumpers while Giddens drained four threes and Aaron Miles two -- made Tech respect the outside shot, which opened up the inside, too.
The Jayhawks ran better than they have all year, scoring 22 points off the fast break; the Red Raiders had zero fast-break points.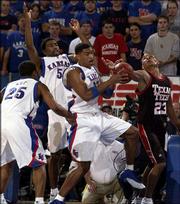 "It kind of reminded me of my freshman year -- get it and run," said Miles, who played in another classic rout of Knight's Red Raiders -- a 108-81 win at Allen Fieldhouse -- his freshman season. "It's the best game this team has played offensively. We really executed well."
The Jayhawks, whose previous season-high output in a league game was 78 points against both Kansas State and Colorado, clicked for 52 second-half points.
"We had swagger," freshman Giddens said. "That means walking out of the locker room and having the confidence to do it. Aaron had the confidence to throw it behind his head. Like coach says, 'Don't think, just do it.' We didn't think as much today. We felt we could get everything on the other (offensive) end."
KU coach Bill Self wouldn't go so far as to say his squad had swagger -- "we were more confident today," he said -- but agreed the Jayhawks had it going on offense.
"It sure is a fun game when you make shots," he said.
It's also a fun game when a team has 22 assists against eight turnovers, as KU did against Tech
"The key for us running is rebounding," Self said after KU outboarded the Raiders 45-35. "When you are able to score off a clean rebound or a deflection or blocked shot, it's your best option to run. We took advantage of our opportunities.
"I'd much rather play the pace we did today, but nobody has ever told our guys to slow it down."
Keith Langford had an off day offensively with eight points. He was in foul trouble helping hound Andre Emmett (29 points, 8-of-20 shooting, 13 of 15 free throws), but the Jayhawks received eight points off the bench from Michael Lee and a career-high seven points from Christian Moody.
Moody was on the floor for foul-plagued Jeff Graves during an 11-0 run that gave KU a 74-54 lead with 8:41 to play.
"It's the best we've looked in the halfcourt offensive set all year," said Self, whose Jayhawks came out on fire, hitting their first five threes and 14 of their first 19 field-goal attempts in building a 12-point lead.
He didn't get caught up in KU's 96-point total perhaps because KU allowed 77, the second-most the Jayhawks have allowed all season. Defense was a concern with Monday's game at No. 13 Oklahoma State looming.
"Do you play better when you win 96-77 than when you win 76-56?" Self said. "The fans get caught up in that more than we do. They might think we played better today, but I can tell you we're going to have to do better on defense if we want to win Monday."
Self -- his squad held the Raiders to 38.3 percent shooting -- also didn't get caught up in the fact the win came against coaching legend Knight.
"Beating Texas Tech, which happens to be coached by coach Knight is great," Self said. "The last time I looked, you don't get an asterisk next to the win."
For his part, Knight applauded the Jayhawks.
"Their offense was better than anything we could come up with on both sides of the ball," Knight said. "Kansas offensively played as well as any team I have seen this year."
Copyright 2018 The Lawrence Journal-World. All rights reserved. This material may not be published, broadcast, rewritten or redistributed. We strive to uphold our values for every story published.