Ames, Iowa — John Lucas showed once more why Oklahoma State is so happy to have him.
Lucas scored 21 points and made a crowd-silencing three-pointer to stop an Iowa State rally, leading the 13th-ranked Cowboys to an 88-67 victory Saturday in hostile Hilton Coliseum.
Oklahoma State got Lucas when he transferred from Baylor after that school's tumultuous offseason, and he has been a gift for coach Eddie Sutton's Cowboys, who are tied for the Big 12 Conference lead halfway through the league race.
"I don't think you can ever underestimate the value of John Lucas," Sutton said. "John Lucas has made us just such a better basketball team. He still needs to get better defensively, but he's a big-time player in that he's not afraid to take big shots."
Ivan McFarlin also scored 21 points for Oklahoma State (17-2, 7-1), which kept its composure after Iowa State jumped to an early eight-point lead and handed the Cyclones their first loss in 13 home games.
Quicker and more athletic, the Cowboys shot 67 percent (18-for-27) in the first half and 63 percent for the game. They were so efficient that Iowa State (13-6, 4-4) was shooting 58.5 percent with six minutes left and still trailed by 13.
"We can play better, and our defense could be better, no question about that. We won't make any excuses," Iowa State coach Wayne Morgan said. "Our defense was poor. But they are a very good team. They make it very difficult for you."
Tony Allen added 18 points for Oklahoma State, which has won seven straight by an average margin of 10.4 points after starting Big 12 play with an 83-62 loss at Texas Tech.
Jake Sullivan led Iowa State with 21, and Curtis Stinson scored 19.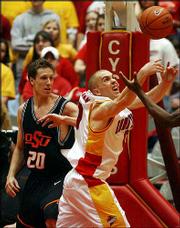 McFarlin benefited from good position on the block and crisp passes from his teammates while making nine of 12 shots, none more than two feet from the basket. Lucas was 7-for-12 from the field, including 5-for-8 from three-point range, and handed out five assists. Allen was 7-for-9 and grabbed eight rebounds.
"We knew they had won 12 in a row at home, and we just wanted to come in and make a statement," McFarlin said. "We've got so much at stake right now. We knew if we got on them early we'd have a chance to win the game."
Oklahoma State expanded a 39-30 halftime to lead 56-42 in the first seven minutes of the second half, then survived Iowa State's only threat.
Jackson Vroman's layup and Sullivan's fifth three-pointer of the game cut the lead to 61-55 and brought the crowd to life. Lucas quickly silenced it. He came off a screen and hit a three from the top of the key, starting an 11-2 run that made it 72-57.
Iowa State had no answer.
"That was probably the possession of the game," Sullivan said. "We get a stop there and come back, it's a whole different ballgame. That shot pretty much put the dagger in us."
Copyright 2018 The Associated Press. All rights reserved. This material may not be published, broadcast, rewritten or redistributed. We strive to uphold our values for every story published.