Naw Zad, Afghanistan — A 15-year-old boy released after spending a year at the U.S. prison for terror suspects in Cuba says he was detained after Afghan militiamen falsely accused him of being a Taliban sympathizer.
Mohammed Ismail Agha was reunited last week with his family in a remote southern Afghan village after a year as one of the youngest inmates in Guantanamo Bay, a high-security prison holding about 650 suspected al-Qaida and Taliban fighters detained since the U.S.-led war in Afghanistan began after the Sept. 11 terror attacks.
Agha was one of three Afghan boys freed. Military officials said the boys had provided viable intelligence but had no further value and were no longer a threat to the United States.
Stolen year
In his first interview since his release, Agha said the U.S. military "stole" 14 months of his life -- but still treated him well.
His case highlights the perils facing young Afghans caught between a virulent Taliban insurgency roiling their country's south and east and American forces hunting them with the aid of sometimes brutal Afghan allies. Agha was seized about a year after the Taliban were ousted.
Agha said American forces interrogated him at Bagram Air Base, north of the capital, Kabul, about whether he was a Taliban supporter. Yet once he reached Cuba, there were few questions, only schooling, prayer and good food.
"At first I was unhappy with the U.S. forces. They stole 14 months of my life," said Agha, sitting in a relative's general store at the bazaar in Naw Zad, a market town some 300 miles southwest of Kabul.
He said his family feared he was dead or had traveled to neighboring Pakistan or Iran to find work. It was not until 10 months into his detention that family members received a letter from him through the international Red Cross, saying he was still alive.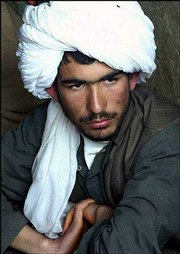 "But they gave me a good time in Cuba. They were very nice to me, giving me English lessons," said Agha, a smile spreading across his face between a small beard and a white turban that made him look two or three years older.
Naw Zad officials sent a messenger to summon Agha from Durabien village, where he lives, to talk to reporters, warning that there were Taliban in the hills where he lived. It was the first interview given by any of the three Afghan boys since their Jan. 29 release from Guantanamo.
Agha denied having anything to do with the ousted Islamic militia now mounting a vicious insurgency.
"I'm not Taliban, it's not true. I'm innocent," he said.
Mistaken identity
Agha says his odyssey began when he and a friend left their farming community for Lashkargah, the capital of Helmand province, in late 2002. Since the Taliban were ousted in 2001, militants have maintained a stubborn insurgency in southern provinces, including Helmand.
The boys were standing outside a shop in a town along the way when they were detained by Afghan militiamen.
"They said, 'Come and join us,' but we told them we are poor people, jobless, and we don't want to join the militia, we want to earn money," Agha said. "Then they said, 'You are Taliban.'"
Agha said he then was handed over to American soldiers, who first took him to the southern city of Kandahar and then to Bagram, where he was held in solitary confinement. He lost track of his friend, Mohammed Wali, in Kandahar and has not seen him since.
"They were interrogating me every day and in the first three or four days giving just a little food, and giving punishment," he said.
"They were asking me if I was Taliban. I said, 'No, I'm innocent.' I thought they would release me, but instead they sent me to Cuba," he said.
"For two or three days I was confused, but later the Americans were so nice with me, they were giving me good food with fruit and water for ablutions before prayer," he said.
Besides teaching him to read and write English, the military provided books in his native Pashto language and a Quran, Islam's sacred book.
He was housed with two other Afghans he identified as Naqibullah, 15, and Hasadullah, 13, who also were released Jan. 29 and brought home last week.
The soldiers looking after the boys gave them a send-off dinner, taking photographs and urging them to return to school.
Agha said he was too poor for that, so his search for work will resume once he visits all his relatives.
Copyright 2018 The Associated Press. All rights reserved. This material may not be published, broadcast, rewritten or redistributed. We strive to uphold our values for every story published.