It's hard for a Kansas State Wildcat to become loved by Kansas University fans, but that's what Howard Hill has done.
Hill, who will retire as KU's public-address announcer after today's KU-Texas Tech game, was born and reared in Manhattan. He graduated from KSU in 1955.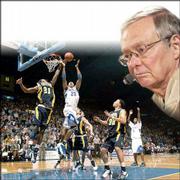 But in the 21 years he's been announcing KU's home basketball and football games, Hill's loud trademark "And now the Jayhawks of Kansas!" always seemed the right way to introduce the teams. Fans have come to revere Hill for his professional style and the ability to work the crowd.
And to the thousands who attend KU men's basketball games, Hill has become a part of the Allen Fieldhouse experience.
"I have this great love affair with the fans," Hill said. "I don't want to be their cheerleader, I want to reflect their enthusiasm and their love for the KU team. I try to do that, and anytime I sound enthusiastic, it has to be genuine. You have to be real with them. It isn't just me announcing to them, it's working with them. That's the reason I've stuck around for so long."
Legion of fans
When word spread that today would be Hill's final game, Internet message boards erupted with posts praising him.
"I now live in Louisiana, and though I can make hardly any Jayhawk games anymore, I still hear it clear as a bell. 'Good evening ladies and gentlemen. Welcome to the campus of the University of Kansas and to Allen Fieldhouse, home of the Jayhawks!' I too would get chills, and yes, it would raise the hair on my arms," one fan wrote on the KUSports.com Web site.
"A group of us in the south student section behind the basket used to wait for his announcement and recite it with him," the fan wrote. "When I took my kids to Jayhawk games, my kids and I would recite it along with him."
Last call for KU announcer
Hill recalls memorable moments of his career
Hear Howard: Audio clips from the interview
6Sports video: Hill stepping down after two decades
Booth to replace Hill as Kansas PA announcer
Kansas fans sure to miss announcer Hill
KU announcer Hill stepping down
---
Hear Howard: Hill's pregame introduction
play | download (13 seconds; 138 k)
INSTRUCTIONS:To download an .mp3 to your computer, right-click (Mac control-click) on the file and select "Save link to Disk" or "Save Target As ..."
Hill came to Lawrence after having worked in radio in Salina, Great Bend, at Ohio University and in Springfield, Ill. At KU, he eventually became manager at radio station KANU, then worked at University Relations.
Behind the microphone
And when it came time in 1982 to replace Jim Gillispie as KU's announcer, then-KU play-by-play announcer Tom Hedrick suggested Hill as a possible replacement.
It worked out like this: To decide the replacement, Hill and former KLWN announcer Jack Alden each would call a half of the Jayhawks' spring football game. With his only experience as a public-address announcer having been a year of calling KSU men's basketball, Hill decided to learn a few tricks by letting the more experienced Alden call the first half.
"I said, 'Well, why don't you do the first half, Jack, and I'll do the second half,'" Hill said. "I didn't know what to do about football. So I went to school while Jack was calling the first half, and then I called the second half, and did -- tried to do -- what he did. For some reason they liked me better, so I was the announcer and he was my backup."
Whatever the reason, KU athletic officials picked Hill and he has filled the unpaid position for more than two decades. In fact, the basketball ticket he receives must be claimed as income on his federal tax return. And that means he's been paying to announce for some time.
"So I figure it's cost me over $10,000 to do this job," Hill said.
That burden wasn't the reason Hill decided to step down, though. He stuck around this year to work with close friend Mike Lickert and his KU video crew during football games, but the 70-year-old announcer knew it was time to step down.
Time for something else
Though his health is generally good, recovering from open-heart surgery last year took a chunk of his energy.
"It's not as easy as it used to be, it's not as much fun as it used to be," Hill said. "You wake up one morning and you think 'You know, I've done this before. I have other things I want to do, so you know, maybe I'll do something else.'"
That could include poetry and/or photography. Hill has worked in both disciplines, but wants to spend more time with each and possibly combine them.
"I don't know what the product will look like, but it's the process that's fun," he said.
Hill announced his decision to retire in mid-November, but told KU he would stick around until a replacement was found. It took more than two months, but Hill finally convinced former KLWN and KLZR general manager Hank Booth to take the job.
In addition to announcing at the games, Hill was master of ceremonies at emotion-filled "Welcome Home" celebrations when KU returns from tournament play. But Hill decided years ago that fans, not the announcer, should take center stage to voice their appreciation for the Jayhawks.
"I can say it too, but the fans can say it much better than I can and with a great deal more believability, and so they do," he said. "I think that helps the players and coaches understand what this is really all about.
"It's a heart-warming place to be. It's not like Allen Fieldhouse usually. It's like family."
After spending the past decade as the backup, Hank Booth will take over as Kansas University's main public address announcer Feb. 18, when KU faces Baylor."He's crimson and blue through and through," said Howard Hill, who is relinquishing the microphone after 21 years. "He's an experienced sports announcer. I think he'll be fabulous in this position."Booth said he had to discuss the job with his wife because they attend KU games together as "dates." But she didn't deter him from his chance to announce Jayhawk games."She knew that it meant a lot to me to have this opportunity to help the athletic department, so she was good about it and said yes," Booth said.Replacing a KU institution won't be easy, he said."I'm nervous, but as I told the people in the athletics office, I strongly feel that nobody in that building came to the basketball game to hear me talk," Booth said. "I'm kind of an assistant on the sideline who's helping them keep track of the game as it goes on."In addition to game-day announcing, Booth will take over Hill's duties as master of ceremonies for "Welcome Home" celebrations when KU returns from the NCAA Tournament each year.
Copyright 2018 The Lawrence Journal-World. All rights reserved. This material may not be published, broadcast, rewritten or redistributed. We strive to uphold our values for every story published.