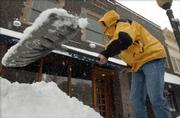 For the second time in less than a week, a winter storm hit Lawrence and northeast Kansas. This time, Thursday's storm brought plenty of snow and all the fun and problems that go with it.
While vehicles were sliding into ditches and each other, hundreds of people carrying a variety of sleds flocked to the snow-covered hills near Kansas University's Memorial Stadium.
Friday cancellations:¢ Lawrence public schools¢ Eudora public schools¢ Tonganoxie public schools¢ First Presbyterian preschool¢ Head Start Community Children's Center¢ Pinnacle Career Institute, Lawrence¢ Raintree Montessori School¢ Lawrence Arts Center Preschool¢ Douglas County Senior Services¢ Lawrence Catholic Schools¢ Immanuel Lutheran Childhood Center¢ Stepping Stones Preschool¢ DeSoto public schools¢ Santa Fe Trail public schoolsSaturday cancellations:¢ Lawrence Youth Symphony rehearsal¢ Delta Kappa Gamma meeting
"It doesn't seem like it, but I'm sweating like a pig," said Mark Ewing, after making five runs down a hill on his cross-country skis.
Ewing, an associate professor in aerospace engineering, took to the hill after KU canceled classes at 1:30 p.m. because of the snow. Classes were expected to resume today, KU officials said.
Light snow, which actually began falling Wednesday night, continued Thursday morning and increased its intensity before stopping about 4 p.m. Lawrence received 6 inches of snow, 6News weather forecaster Ross Janssen said.
School's out
Most area schools, including those in the Lawrence school district, were closed Thursday. Douglas County Senior Services canceled all of its programs Thursday and today.
Lawrence Supt. Randy Weseman also called off classes today, creating a four-day weekend for 9,700 students in the district.
He reasoned it would be too difficult to get sidewalks and parking lots at more than two dozen school facilities cleared in time for today's classes.
"We don't have the equipment to move that much snow," he said.
Another consideration, he said, was the possibility of traffic mishaps on rural roads covered by snow.
"We're not going to send buses on terrain where we can't see the road," Weseman said.
Julie Boyle, the district's communications director, said staff at district headquarters received only one complaint from a patron upset about cancellation of classes Thursday. The decision to call off school Thursday was based on a forecast for heavy snowfall in the afternoon.
"By school dismissal time, it looked like a pretty good decision," she said.
Boyle said the school calendar would have to be adjusted to account for the three days school has been called off this year.
Because the school board included a make-up day on the 2003-2004 calendar, one day off from school due to inclement weather will be excused by the state.
In other words, the closure on Jan. 27 will be made up on the scheduled date of April 16. The day off Thursday won't need to be made up. However, today's closure will need to be added to the calendar, most likely in May.
Accidents aplenty
Traffic was a mess most of the day on city, county and state roadways. There were nearly 50 noninjury accidents reported between 7 a.m. and 9 p.m. on Lawrence streets, police officials said.
"It looks like we were very busy," Sgt. Mike Pattrick said. "The streets were very slick."
Douglas County Sheriff's officers worked more than a dozen noninjury accidents and assisted at least a dozen motorists who were stranded, a spokesman said.
The Kansas Highway Patrol received reports mostly of vehicles sliding into ditches but few injuries, a spokesman said.
On the Kansas Turnpike, several tractor-trailers were involved in accidents, according to the Kansas Turnpike Authority. Near Lawrence, two people were injured in turnpike accidents but no other details were available.
On the KU campus, officers worked about half a dozen noninjury accidents. But at least one person suffered a knee injury while skiing and a man suffered a minor cut after he jumped into some snow-covered brush, KU Police Lt. Schuyler Bailey said.
Lawrence Memorial Hospital emergency room staff had treated 15 people for sledding-related accidents, a spokeswoman said. The hospital also reported 12 people injured in falls and two from vehicle accidents. None of the injuries were thought to be life-threatening, hospital officials said.
Clearing goes slow
Street and highway crews spent the day just trying to keep up with the snow.
"They've been working mostly on the arterial streets and the main thoroughfares," said Chuck Soules, Lawrence public works director.
Lawrence city officials called in assistance from LRM Industries to help clear residential streets. "They'll be working until we get it done," Soules said.
The turnpike from Topeka to Kansas City, Kan., was mostly snowpacked Thursday night, according to KDOT. Also snowpacked was U.S. Highway 59 from Lawrence to its junction with U.S. Highway 56 near Baldwin. Icy and snowpacked spots also could be found on U.S. Highways 24 and 40 outside of Lawrence, KDOT said.
Most people -- adults and children -- who went out in the snow to play were bundled up against the weather. But not Misty Maurer. The 25-year-old Lawrence woman was clad only in knee-length denim shorts, a long-sleeved shirt and a sweater vest as she threw snowballs in front of her house in the 900 block of Mississippi Street. She wasn't even wearing shoes.
"I'm not too cold yet," Maurer said.
Outside of Lawrence, 6 inches of snow fell in Topeka and the Oskaloosa area, according to the National Weather Service. Ottawa received about 5 inches of snow.
Flurries will continue today and the temperature should reach a high of 24 degrees before the bottom drops out tonight, Janssen said. Saturday morning's low will be 2 degrees and the high will be 15 degrees, he said.
"We will see temperature moderation next week," Janssen said.
Plowing through it
Across the county, crews labored to stay ahead of the storm.
In Lecompton, city superintendent Justin Van Winkle climbed into his plow-equipped International dump truck early Thursday morning and hit the streets, only to find that his meticulous scraping wasn't putting much of a dent in the accumulation.
"It just got so heavy he just gave up -- he had to take off for a few hours," said Susie Hackathorn, city clerk. "But he got back out there."
In Baldwin, city officials dispatched their three plow-equipped trucks and a sand truck to tackle city streets. For brick streets downtown, plows were outfitted with special bumpers to prevent damage.
Jeff Dingman, city administrator, said the weather represented quite a change from his previous job. Just six months ago he was leaving Sebastian County, Ark., where he worked as assistant county administrator -- and endured perhaps a single dusting of snow each year.
Not that he longs for warmth.
"I like the wintertime," Dingman said. "You're supposed to have snow in the wintertime."
Douglas County officials say they have 5,600 tons of salt-and-sand material available for spreading on roads. That's enough for at least three dozen more passes on the county's network of 162 miles of paved roads.
---
Staff writers Mike Belt, Tim Carpenter, Mark Fagan, Lindsay Hanson, Joel Mathis, Janet Reid and Eric Weslander contributed to this story.
Copyright 2018 The Lawrence Journal-World. All rights reserved. This material may not be published, broadcast, rewritten or redistributed. We strive to uphold our values for every story published.