Philadelphia — After ripping his team for having no heart, Allen Iverson showed that the Philadelphia 76ers still have a pulse.
Iverson played one of his better offensive games of the season Thursday night, scoring 39 points to lead the struggling 76ers past the weary and depleted Los Angeles Lakers, 96-73.
In a game that stayed competitive for only a few minutes, Iverson had his way against defender Derek Fisher and repeatedly freed himself for midrange jumpers and drives.
Iverson shot 15-for-29 from the field -- missing his final four shots -- and added six assists in one of the 76ers' most lopsided victories of the season and the Lakers' largest margin of defeat.
"I tried to make sure I led by example," Iverson said. "I saw guys were trying to get things done the right way."
The Lakers, playing their fourth road game in five nights and extra tired after arriving in Philadelphia around 4 a.m., lost Gary Payton to an ejection in a first quarter in which they scored just 10 points -- matching their season low set earlier this week at Indiana.
Shaquille O'Neal missed 11 of 13 foul shots in the first half, finishing 3-for-15 from the line with 17 points.
"We just had dead legs tonight. It was just obvious we didn't have any zip out there at all," Lakers coach Phil Jackson said. "This is not a low point. They're not depressed about it. They just had a bad game. Shaq couldn't make any free throws, they lose Gary ...
"We're not going into the woods to fight a bear with a switch. That wasn't going to happen out there tonight."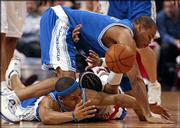 Glenn Robinson added 26 points for the 76ers, who were ripped by Iverson two nights ago following a loss to Toronto -- their ninth in 11 games.
"We don't play with no heart, we don't take a challenge," Iverson said during a 10-minute rant. "Guys don't take pride and compete."
After shooting off his mouth, it became clear early that Iverson might be capable of shooting the Sixers out of their slump.
He scored six points over the final 1:05 of the first quarter to help Philadelphia to a 25-10 lead.
"I hope it didn't take that," Iverson said of his public outburst. "If it did, I'm happy that it worked. Guys came out and played hard.
"I haven't seen that energetic flavor from us in a while."
The opening 12 minutes featured the quick ejection of Payton by referee Joey Crawford for arguing while Iverson shot free throws.
Payton did not comment after the game, nor did O'Neal.
"I'm not going to talk about it. It's too irritating to talk about it," Jackson said of Payton's ejection.
The Sixers led 44-29 at halftime behind 20 points from Iverson, and he reached 30 points with 3:35 left in the third quarter by losing Fisher with a crossover dribble and hitting a 21-footer. Samuel Dalembert followed with a dunk off a pass from Robinson to give Philadelphia a 71-44 lead.
Iverson sat down for good with 4:02 remaining and the 76ers ahead, 89-66.
Spurs 96, Sonics 90
Seattle -- Tim Duncan had 23 points and 14 rebounds, and Tony Parker added 18 points to lead San Antonio over Seattle. The Spurs beat the Sonics for the fifth straight time, sending Seattle to its fifth loss in the last five games. San Antonio, making the second stop on a seven-game road trip, has won four in a row in Seattle.
Hedo Turkoglu scored 14 for the Spurs, and reserves Manu Ginobili had 13 and Devin Brown 10.
The Sonics three times cut a 15-point deficit to four in the final period but never could take the lead. It was 94-90 with 49.5 seconds left when Rashard Lewis hit a basket but couldn't complete a three-point play.
Copyright 2018 The Associated Press. All rights reserved. This material may not be published, broadcast, rewritten or redistributed. We strive to uphold our values for every story published.