Port-au-Prince, Haiti — An armed opposition group seized control of Haiti's fourth-largest city Thursday, burning a police station, freeing prisoners and leaving at least four people reported dead and 20 wounded in clashes with police.
Members of the Gonaives Resistance Front began the assault shortly after noon in Gonaives, setting afire the mayor's home and then dousing the police station with fuel and lighting it while officers fled, Haitian radio reports said.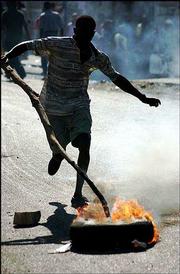 At least four opponents of President Jean-Bertrand Aristide were killed in gunbattles with police, Gonaives Resistance Front leader Wynter Etienne told Radio Vision 2000. Radio Metropole reported 20 people were wounded and more than 100 inmates were freed from the jail.
"Gonaives is liberated," Etienne told reporters in Gonaives. "Aristide has to go... We've liberated the police station and freed the population" from Aristide's rule.
Etienne said the group aimed to take control of other towns, while the government vowed to restore order.
The attacks "are terrorist acts undertaken by the armed wing of the opposition," government spokesman Mario Dupuy said. "The police will have to take measures to re-establish order."
Members of the armed group were once allied with Aristide but turned on him last year after their leader, Amiot Metayer, was found murdered Sept. 22. Metayer had long supported Aristide, but many of his followers now accuse the government of involvement in the killing.
Copyright 2018 The Associated Press. All rights reserved. This material may not be published, broadcast, rewritten or redistributed. We strive to uphold our values for every story published.