New York — A federal judge opened the door for Ohio State sensation Maurice Clarett and teen-age football standouts to turn pro, declaring Thursday that an NFL rule barring their eligibility violated antitrust law and "must be sacked."
U.S. District Judge Shira Scheindlin said legal issues so clearly were in Clarett's favor a trial was unnecessary. The NFL said it would appeal, and it probably would try to block the ruling before the April draft.
Clarett sued the league last year to challenge its 1990 rule that a player must be out of high school three years to enter the draft.
"I was pleased that the rule was brought down," Clarett said at a news conference. "It gives kids an opportunity to choose."
Clarett's lawyer, Alan Milstein, called it a "total victory."
Clarett declined to say whether he would enter the April draft after his lawyers said Ohio State had warned even a declaration to join the NFL would rule out any chance of returning to college ball.
Jeff Pash, the executive vice president of the NFL, said the ruling left him "really surprised" but confident on appeal because its findings contradicted those of past court rulings.
The ruling, if it holds up on appeal, means that high school football players and college underclassmen will be able to make the jump to the pros just like their counterparts in the NBA.
Dozens of basketball players, including Kobe Bryant and LeBron James, have gone to the NBA straight after high school in recent years, becoming instant celebrities and signing shoe endorsement deals that make them millionaires before the ink is dry on their high school diplomas.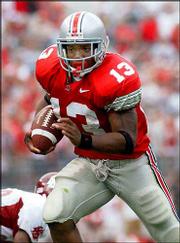 "Somebody broke the rule for LeBron a long time ago. It's just another option," Clarett said.
Scheindlin wrote that the NFL rule "is precisely the sort of conduct that the antitrust laws were designed to prevent."
"One can scarcely think of a more blatantly anticompetitive policy than one that excludes certain competitors from the market altogether," she wrote.
Clarett, a 20-year-old sophomore, played just one season at Ohio State, leading the Buckeyes to the 2002 national championship. He was barred from playing in the 2003 season for accepting improper benefits from a family friend and then lying to investigators about it.
Ohio State would have to petition the NCAA to allow Clarett to return for the 2004 season, and it is unclear whether the school would succeed. The court ruling came a day after Ohio State said it was investigating an ESPN.com report that the family friend was gambling while in daily contact with Clarett during the 2002 season.
Clarett would be prevented from entering the NFL draft until 2005 under current rules.
His lawyers had called the rule arbitrary and anticompetitive, arguing it robbed players like Clarett of an opportunity to enter the multimillion-dollar marketplace.
Scheindlin noted courts had already eliminated similar age-based rules violating antitrust laws in professional basketball and hockey.
Copyright 2017 The Associated Press. All rights reserved. This material may not be published, broadcast, rewritten or redistributed. We strive to uphold our values for every story published.