When it is Scott Bregman's turn, you will know it.
You'll know because the entire Lawrence Gymnastics Academy building goes nearly silent. You'll know because the parents will quietly tap each other on the shoulder and point in his direction, whispering, "Watch this."
More than anything, though, you'll know because he'll have the undivided attention of all the young kids, with bug eyes and awestruck looks on their faces, knowing that with thousands of hours of work, they too some day could be like Scott Bregman.
That is enough to keep so many of them going in gymnastics. To be as good as Scott Bregman would be ... well, so incredibly cool.
Bregman is a junior at Free State High, a straight-A student, National Honor Society member and a pretty normal high school guy.
But take a step inside the Lawrence Gymnastics Academy off Wakarusa Drive, where Bregman trains 21 hours a week, and you'll see a different perception of him. He is a hero here.
"They see what Scott's doing and they want to be like him," said Maria Mohling, a coach at LGA. "They always look up to him."
Rest assured, the respect Bregman has earned is really, really deserving. He's quickly -- and, to a degree, quietly -- become one of the top gymnasts in the state of Kansas. He can't show his talent off for Free State, because boys gymnastics in Kansas high schools died in 1990 when the Wichita City League schools cut their programs and everyone else followed suit.
So the club route is the only route Bregman can go. And that is fine with him.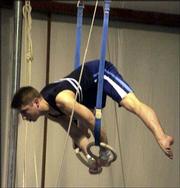 Bregman has been involved in gymnastics for nearly 10 years. It started with the basics: Tumbling in the living room, round-offs in the front yard, handstands dangerously close to Mom's favorite antique lamp. Pretty soon, his parents decided a more controlled setting might be a little bit safer for Bregman, then 7 years old.
Gymnastics started, as is the case with many youngsters, as a place to have fun, get exercise and let out all the kid energy.
But Bregman's story -- and talent -- advanced much farther than that. Soon, he was sticking the most complicated of landings, executing routines many don't dare try, and moving up in classes faster than you can say "pommel horse."
He played soccer when he was little, too, but there was no sense denying it: Gymnastics was his calling. Now, he lifts weights three days a week -- as his tree-trunk arms prove -- and works three or four hours a day every day but Sunday at getting better and better doing what he loves to do. There are goals in every competition, but he has a big one in mind.
"I want to try and get a college scholarship," Bregman says.
Of course, the popularity of the sport for men might hinder his chances. Only 20 NCAA schools sponsor men's gymnastics. To put it in perspective, 36 sponsor fencing, 39 skiing and 46 water polo.
But Bregman's talent, and remarkable success in the classroom, very well could land him one anyway. Bregman has won numerous state championships, a regional championship and has earned his way to Class 1 Junior Elite status.
He has competed in two meets already this season, including the LGA Winter Cup Sunday in Lawrence, and took first in the all-around competition at both of them. He will compete in several more competitions this year, and, if he stays healthy, has an excellent shot at advancing to nationals in sunny San Diego.
Bregman hasn't quite been on the mark yet -- he says he has "good days and bad days" -- but when he does, look out. As Mohling will tell you, "When he's on, he'll blow the competition away."
And all the while, all the young kids at LGA who want to be Scott Bregman will be watching, starry-eyed. It's understandable. When it's his turn, you really can't help but pay attention.
Copyright 2018 The Lawrence Journal-World. All rights reserved. This material may not be published, broadcast, rewritten or redistributed. We strive to uphold our values for every story published.