Miyun, China — A lantern festival marking the end of China's Lunar New Year celebrations erupted into a stampede Thursday, killing at least 37 people and injuring 15, authorities said.
Many of the victims suffocated in the accident in Miyun County, a northern suburb of the Chinese capital, the official Xinhua News Agency said.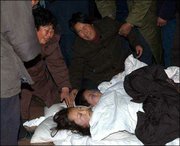 Officials from President Hu Jintao on down immediately expressed "deep concern." The mayor of Beijing and the region's Communist Party chief went to the scene to supervise.
The prompt involvement of senior leaders was in line with China's new promise to keep people safe, including doing more to prevent disasters.
Revelers had gathered for the annual Lantern Festival at popular Mihong Park when, at 7:45 p.m., someone tripped on a bridge in a crowded area and started a chain reaction, said Wu Kun, a spokesman for the Beijing city government.
"One person fell down on a grate in the park and caused many people to fall down. There was a stampede," Wu said. "It was a lot of people. I'm not sure how many. These things are packed," he told The Associated Press early Friday.
At least 37 people were confirmed killed and 15 injured, Wu and other officials said. Wu said the death toll could rise, but hours later, official reports stayed with the figure of 37 fatalities.
The park, the size of four football fields, was dark and nearly deserted early today. Its concrete-and-metal bridge, over a frozen river, appeared damaged and littered. There was no visible presence of police, emergency personnel or injured people.
Copyright 2017 The Associated Press. All rights reserved. This material may not be published, broadcast, rewritten or redistributed. We strive to uphold our values for every story published.