For the Free State High girls basketball team, it was the same old symptoms. For Lawrence High, it was nothing short of a relieving remedy.
The Lions tripped the Firebirds, 48-29, in the fifth-place game of the Firebird Winter Classic Saturday, claiming a 2-1 mark in the tournament and leaving satisfied after what very well could have been a bad weekend.
"I was pleased," LHS coach Kristin Mallory said. "I felt like we knew what we needed to do defensively, and we shared the ball wonderfully on the offensive end."
Lawrence improved to 6-5 with the victory and has won two straight since falling to Topeka Highland Park in an ugly tournament opener Thursday.
Free State, meanwhile, dropped to 4-7. The Firebirds finished 1-2 in the tournament, but arguably had the field's toughest draw, playing Manhattan, Wichita North and then LHS.
"We had peaks and valleys -- a lot of ups and downs all weekend," FSHS coach Bryan Duncan said. "We really think we're on the verge of being a real good team. Now we have to take that next step."
The next step wasn't going to be made Saturday. Not with a determined LHS bunch led by 6-foot forward Megan Klingler. The junior capped an impressive tournament with a 14-point performance Saturday, dominating the inside and doing her part to handcuff Free State's Banaka Okwuone, one of the Sunflower League's top rebounders.
Okwuone finished with just three rebounds Saturday, one day after pulling down 17 against Wichita North. The Lions, though, were watching Okwuone Friday and knew what they needed to do to erase her impact.
"We wanted to eliminate her on the boards," Mallory said. "That was a goal of our big girls, to make sure they got a body on her every time. We did that effectively."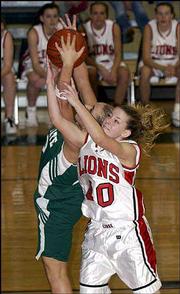 It spelled trouble for the Firebirds, who once again were plagued by difficulties shooting. Free State shot just 20 percent (11-of-54) and was 1-of-13 from three-point range.
"Their zone hurt us," Duncan said. "We didn't really attack their zone. We're pretty little and not a great-shooting team. I think they were able to take advantage of that."
Drew Huff scored 12 points for the Lions, who return to action Friday against Shawnee Mission South. Senior Erin Knight added 11 points on 5-of-7 shooting.
Free State was led by junior Jamie Stanclift, who scored 10 points.
The Firebirds will play Thursday at Shawnee Mission North.
Both FSHS and LHS will meet again Saturday at Lawrence High, the final time the two teams meet this regular season.
It's the beginning of a crucial stretch, especially for Lawrence High. Starting Friday, the Lions will play five games -- including four league games -- in seven days.
"We need the momentum with all the ups and downs we've had," Mallory said. "We need to make sure we keep going up."
Copyright 2018 The Lawrence Journal-World. All rights reserved. This material may not be published, broadcast, rewritten or redistributed. We strive to uphold our values for every story published.