While working on her doctorate, Nicole Etcheson spent untold hours poring over letters, diaries and papers of former Southerners who had settled in Ohio, Indiana and Illinois in the 1850s.
Everybody, she soon learned, was buzzing about Kansas.
"I couldn't help but notice that here were all these people who had never been to Kansas, had no intention of moving there and who had no relatives there -- and yet they were very absorbed by what was going on there," said Etcheson, now an associate history professor at the University of Texas at El Paso. "It made me curious as to why."
Ten years later, Etcheson and University Press of Kansas published "Bleeding Kansas: Contested Liberty in the Civil War Era," a fresh, 253-page look at the events and philosophies that pitted pro-slavery Missouri ruffians against free-state Jayhawkers and, eventually, triggered the Civil War.
Etcheson, 40, will discuss her findings during a 2 p.m. lecture today at Constitution Hall State Historic Site, 319 Elmore St., Lecompton.
Some of Etcheson's conclusions may surprise area history buffs.
For example, she says much of the violence fueled by the Kansas-Nebraska Act was rooted in disagreements over the white settlers' political liberties as much as it was in moral objections to slavery.
She calls abolitionist and Kansas icon John Brown a "marginal figure in the free-state movement" when compared to Charles Robinson, the Massachusetts abolitionist who founded Lawrence, and Jim Lane, one of the state's first U.S. senators.
"Robinson and Lane had no use for John Brown, and he had no use for them," Etcheson said. "He called them 'old women.'"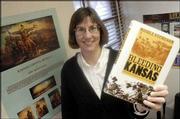 Etcheson also sees a parallel between President Bush's contested election in 2000 and elections in Kansas in the 1850s.
"The democratic processes are not as concrete, as transparent or as flawless as we like to think they are," she said. "We all saw what happened in 2000 and the confusion it caused.
"An argument can be made people felt surprised by the problems in determining the Bush-Gore vote, when, really, the potential for these kinds of problems have always been there. That was certainly the case in the election March 30, 1855, to elect representatives to the territorial legislature in Kansas, when something like 5,000 to 6,000 pro-slavery votes were cast, even though the census put the number of eligible voters at 2,905."
Etcheson also is the author of "The Emerging Midwest: Upland Southerners and the Political Culture of the Old Northwest, 1787-1861." It was published in 1996.
Copyright 2017 The Lawrence Journal-World. All rights reserved. This material may not be published, broadcast, rewritten or redistributed. We strive to uphold our values for every story published.