Los Angeles — A slow-rolling series of storms that battered the West this week brought snowfall and high wind Thursday to parts of California, where weather-weary residents already have endured lashing rain, heavy snowfall and a destructive tornado.
Since the wild weather began slogging ashore Monday, five deaths in California and two in Colorado have been blamed on storms. Searchers on Thursday recovered what they believed were the bodies of two missing college students who had vanished after their canoe capsized in a flooded Arizona creek.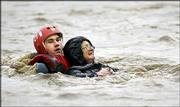 Up to a foot of snow fell on Colorado mountains, and northern Nevada was expecting as much as 6 feet on top of the 3 to 4 feet that already had fallen.
In Arizona, residents of Sedona -- a tourist community known for its stunning red rock formations -- began cleaning up after a heavy storm bloated a creek from a trickling stream to a rushing river of mud.
Residents in an area including three resorts, an RV and mobile home park, and 40 homes had been urged to evacuate after the flooding Wednesday.
California has taken the brunt of the Pacific barrage, first in Southern California then in the north.
Heavy rain, wind and blizzard conditions struck Northern California early Thursday, snarling traffic and cutting power to thousands in the San Francisco Bay Area while temporarily closing major routes across the Sierra Nevada.
As the storm moved east, three Colorado highways were closed, one from accidents and two by avalanches.
Copyright 2018 The Associated Press. All rights reserved. This material may not be published, broadcast, rewritten or redistributed. We strive to uphold our values for every story published.