Kiev, Ukraine — Ukrainian Prime Minister Viktor Yanukovych refused to accept defeat in the country's presidential election and vowed Monday to ask the Supreme Court to overturn the result, claiming that millions of his supporters were disenfranchised and that there was systematic fraud.
"I will never admit defeat," Yanukovych said at a Monday evening news conference, where he sternly rejected suggestions that he should give up. "It's an appalling fact when millions of citizens didn't vote. They were stripped of that right to vote."
With 99.84 percent of the ballots counted, opposition candidate Viktor Yushchenko had a commanding lead, with 52 percent of the vote to 44 percent for Yanukovych. Early Monday, Yushchenko claimed victory while speaking to his supporters.
The Central Elections Commission cannot declare Yushchenko the official winner until all legal challenges are heard by the country's Supreme Court. That process could take several more weeks. Yanukovych has seven days to file a challenge.
The prime minister said 4.8 million potential voters couldn't cast their ballots because of new electoral laws that restricted voting by the disabled and the use of absentee ballots by people unable to make it to the polls.
Those measures, adopted by parliament before Sunday's runoff, were designed to limit fraud, but Yanukovych said the new regulations violated the constitution and became an insurmountable barrier for the disabled.
Yushchenko spokeswoman Irina Heraschenko, said they were not worried by the planned appeal.
"He has the right to go to the courts," she said. "But his appeal should be based upon facts, not disappointment. And we haven't heard any facts."
Yushchenko is expected to move quickly to bolster ties with the West while trying to ease tensions with Russia.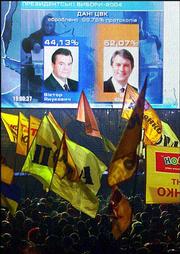 Yet there are questions about how fast he can open up to the European Union, NATO and other Western structures, pursue plans for an ambitious economic overhaul and tackle widespread corruption.
Despite his leanings toward the West, Yushchenko must pay heed to the Kremlin and told journalists last week that "I have no intention of creating new problems" with Russia.
Russia is Ukraine's biggest trade partner and a major investor here, and it is extremely nervous about eastward-expanding European institutions such as the European Union and NATO.
There was no immediate comment on the election from the government of Russian President Vladimir Putin, which backed Yanukovych.
Copyright 2018 The Lawrence Journal-World. All rights reserved. This material may not be published, broadcast, rewritten or redistributed. We strive to uphold our values for every story published.