St. Louis — The Rams desperately needed a victory and played like it. The Eagles desperately wanted to stay healthy and played like it.
Rookie Steven Jackson's best NFL performance carried St. Louis to a 20-7 victory over Philadelphia that kept the Rams in the NFC playoff race. Jackson rushed for 148 yards and a touchdown, but he also limped off midway through the fourth quarter with a bruised right knee.
With the Eagles (13-2) playing it safe -- running back Brian Westbrook, their prime offensive threat with standout wideout Terrell Owens sidelined, was scratched, along with starting tackle Tra Thomas -- their reserves were no match for a Rams squad with its season on the line.
"At this point, it doesn't make any difference to me," Rams coach Mike Martz said. "If they are going to play those guys, we should dominate them."
Philadelphia gained a mere 155 yards against a defense ranked 24th. With starting quarterback Donovan McNabb in the game for one series, the Eagles gained 63 of those yards and got their only score.
With the victory, St. Louis ensured a meaningful finale against the New York Jets. If the Rams (7-8) beat the Jets on Sunday, and Seattle loses to Atlanta, St. Louis will win the NFC West. If the Seahawks win and take the division, St. Louis can make the playoffs by winning and having Minnesota lose at Washington, or by Carolina and New Orleans tying.
A win for the Jets would put them into the AFC playoffs.
"After all the drama we've been through this year, to be in position to get into the playoffs, how awesome is that?" Martz said. "We will show up next week and lay it all out there."
Jackson, who missed one game with a bruised knee and did not get on the field last week despite being healthy, revitalized a rushing game that totaled 88 yards in the last two games, both losses that dropped the Rams to the edge of elimination. The overall offense was effective against Philadelphia's second-string defense, gaining 419 yards.
Also returning was quarterback Marc Bulger, whose right shoulder kept him out of those last two losses. Bulger was sharp enough, going 20-for-27 for 233 yards, and he hit Isaac Bruce for a seven-yard touchdown, the only score of the third quarter.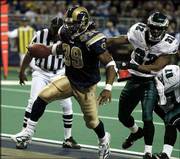 Martz revealed after the game that Bulger had been playing hurt since the season opener.
In a stark departure from his passing persona, Martz -- perhaps sensing it would be Jackson's night -- called 10 running plays on the opening drive that covered 73 yards. Jackson ran for 46 yards and Marshall Faulk for 27 before Jackson surged in from the five.
The first-round pick, the first running back chosen, also had a 43-yard run in the second period on a drive that ended with Jeff Wilkins missing a 44-yard field goal.
"He looks like a great runner to me," Martz said of Jackson. "That first series he is running through them and around them every which way you can. When you have a guy playing like that -- spectacular."
Wilkins made a 28-yarder for a 10-7 halftime lead. He later added a 29-yarder.
Freddie Mitchell's first-quarter touchdown catch was his first of the season, and the Eagles will be looking for more of that with Owens sidelined. He beat safety Antuan Edwards in the back of the end zone, reaching up for McNabb's pass to tie it at 7.
That was it for McNabb as the Eagles remained in their protective mode with nothing to gain from the game. They have a league-high nine Pro Bowlers, and most of them barely played.
The Eagles got a scare in the first half when cornerbacks Lito Sheppard, a Pro Bowler, and Dexter Wynn collided chasing a pass by Wilkins on a fake punt. Both lay on the ground for several minutes before walking off, and Sheppard stayed out with a quadriceps contusion. Rookie fullback Thomas Tapeh was carted off with 28 seconds remaining because of a dislocated hip.
Copyright 2018 The Associated Press. All rights reserved. This material may not be published, broadcast, rewritten or redistributed. We strive to uphold our values for every story published.