Boise, Idaho — Paul Pinegar shrugged off midseason criticism and kept throwing for touchdowns.
Pinegar had five TD passes, including the game-winning 25-yarder to Stephen Spach in overtime, as Fresno State beat No. 18 Virginia, 37-34, in the MPC Computers Bowl on Monday.
"Winning feels great, especially against a Virginia team that has a great defense," Pinegar said.
He was fabulous, completing 23 of 36 passes for 235 yards without an interception, helping the Bulldogs (9-3) erase a 21-7 second-quarter deficit and notch another win against a big-name team.
Fresno State, the third-place team in the Western Athletic Conference, added the Cavaliers (8-4) of the Atlantic Coast Conference to a list of victims that has included Colorado, Oregon State, Wisconsin, Washington and Kansas State in recent years.
"We've got a lot of great teams in the WAC: Boise State, Hawaii, UTEP," Pinegar said. "We've showed that we definitely can compete with some of the best teams in the nation."
His five touchdown passes were a record for the game, formerly known as the Humanitarian Bowl.
Virginia got the first possession of overtime, taking a 34-31 lead on a 26-yard field goal by Connor Hughes.
Pinegar froze the defense with a play-action call and zipped a pass to Spach, who fought off a pair of would-be tacklers and fell into the end zone.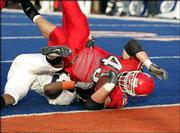 The Bulldogs stormed off the sideline in celebration while the Cavaliers were left dazed.
"When you catch the ball in that situation, you're just looking for the end zone," Spach said. "You just keep on running. I knew I was really close."
Motor City Bowl
Connecticut 39, Toledo 10
Detroit -- Connecticut cruised past Toledo in the Huskies' first bowl appearance since becoming a full Division I-A team three years ago. The Huskies (8-4) dominated in every phase of the game. Bowl MVP Dan Orlovsky threw for 239 yards and two touchdowns and Matt Nuzie kicked a career-best four field goals. The UConn defense held the Rockets (9-4) to just 78 yards on the ground.
Copyright 2018 The Associated Press. All rights reserved. This material may not be published, broadcast, rewritten or redistributed. We strive to uphold our values for every story published.