AUBURN HILLS, MICH. — Vince Carter is glad he won't see the Palace of Auburn Hills again this season.
At least not until the playoffs.
Carter scored 23 points in his debut with New Jersey, but left in overtime with a cramp in his left hamstring, and the Nets fell to the Detroit Pistons, 100-90, Monday night.
"I'm OK -- it just cramped up," he said. "I'll be fine as soon as I get some fluids into me."
The game was his first since he strained an Achilles' tendon in Toronto's 90-86 overtime loss to the Pistons on Dec. 8. He was traded to the Nets on Dec. 17.
"I guess this is twice here, but I'm sure the cramps would have happened anywhere," he said. "I played a lot of minutes in my first game back, and I guess I got dehydrated. I felt good until then, and my Achilles' is fine."
He didn't start, but played 42 minutes and shot 8-of-19.
"Vince is one of the top players in the league, and we fully expect him to have a bright future in New Jersey," Nets coach Lawrence Frank said. "He was under a lot of pressure tonight, and he responded extremely well. We're just disappointed that we didn't finish it off."
Richard Hamilton scored a season-best 37 points for Detroit, which overcame a late eight-point deficit in the fourth quarter and sent it to overtime.
"In the last two games, the coaches have definitely given us a lot more freedom to do things on offense," Hamilton said. "I think that's what got me my shots tonight."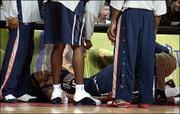 Tayshaun Prince had 18 points and nine rebounds and matched a career high with seven assists.
"I think that's the best all-around game Tayshaun has played since I've been here," Pistons coach Larry Brown said. "He had to guard (Richard) Jefferson, and they went to him a lot, but Tay challenged him and did some good things on offense."
The Nets got the first basket of the extra period, but misfired on their next six possessions and allowed Detroit to pull away for the easy victory.
Heat 116, Hawks 102
Miami -- Shaquille O'Neal scored 31 points wearing protective padding over sore ribs, and Dwyane Wade added 27 as Miami beat Atlanta to set a franchise record with its 12th straight victory. The Heat, playing for the first time since their much-hyped Christmas Day overtime victory against Kobe Bryant and the Lakers, eclipsed their record for consecutive wins set in 1997. O'Neal wore a sleeveless T-shirt and padding underneath his jersey. The Heat did not immediately disclose the extent of the injury or when it occurred.
Knicks 119, Magic 111
Orlando, Fla. -- Stephon Marbury scored 34 points in New York's best offensive performance of the season. Kurt Thomas, Allan Houston and Jerome Williams added 15 apiece points for the Knicks, who set season highs in points and assists (29) and tied their season high for field goals made with 46. Steve Francis scored 25 points, and Cuttino Mobley added 24 for Orlando, playing for the first time after a four-day layoff.
Pacers 100, Hornets 82
Indianapolis -- Reggie Miller scored 24 points, and Jermaine O'Neal added 16 to go with 11 rebounds for Indiana. O'Neal was 7-for-15 in his second game after missing 15 for his role in a brawl with Detroit fans on Nov. 19. Lee Nailon had a season-high 28 points for New Orleans, which has lost its sixth straight game and 17th of 18.
Wizards 106, Bobcats 87
Washington -- Larry Hughes had 20 points and Gilbert Arenas 17 to lead the Wizards, who bounced back from tying a season low for points in a 109-74 loss Sunday at Minnesota. Emeka Okafor had 18 points and 11 rebounds for Charlotte, extending his streak of consecutive double-doubles to 16.
Grizzlies 96, Clippers 76
Memphis, Tenn. -- Pau Gasol had 18 of his 24 points in the first half, and the Grizzlies rolled over slumping Los Angeles. Bonzi Wells added 18 points for Memphis, which snapped a two-game losing streak. Corey Maggette scored 14 points for the Clippers, losers for the seventh time in eight games.
SuperSonics 98, Jazz 88
Salt Lake City -- Rashard Lewis scored 22 points and Ray Allen 19 as Seattle won in Utah for the first time in nine tries. Matt Harpring scored 22 points for the Jazz, who lost for the fifth time in six games. Utah, last beaten at home by Seattle on Feb. 1, 2000, committed 23 turnovers.
76ers 111, Trail Blazers 104
Portland, Ore. -- Allen Iverson overcame his early shooting problems and scored 28 points to lead Philadelphia past Portland. Andre Igoudala added a career-high 22 points for the 76ers, who have won five of their last seven. Iverson was questionable until game time because of a sprained finger. He shot 2-of-12 in the first half, but scored 21 points in the second half on 6-of-13 shooting in the opener of Philadelphia's seven-game road trip.
Warriors 104, Nuggets 101
Oakland, Calif. -- Mickael Pietrus scored a career-high 24 points off the bench, and Golden State won three straight for the first time this season. Jason Richardson added 18 points and seven rebounds for the Warriors, who hadn't won three in a row since getting seven straight victories from March 15-28 last season. Andre Miller had 21 points and a season-high 14 assists, but missed two free throws in the final minute.
Copyright 2017 The Associated Press. All rights reserved. This material may not be published, broadcast, rewritten or redistributed. We strive to uphold our values for every story published.