Baldwin — Roger Boyd scarcely could believe his eyes.
Looking at the bank of a pond southeast of Baldwin through a spotting scope, Boyd, a professor of biology at Baker University, spotted a trumpeter swan among a large flock of geese.
"I'm pretty sure we've never had one in all the years of our count," he said.
Trumpeter swans' historic breeding range extended in a wide band from the Bering Sea east through almost all of Canada and south to Missouri, Illinois, and Indiana.
Today the birds, the largest waterfowl in North America, are found primarily from the Rocky Mountains to the West Coast.
Boyd and about 10 other people participated Monday in the Baldwin Christmas Bird Count, which began in 1942 and is the oldest continuous count of its kind in the state. This year's event began shortly before dawn and ended at dusk after bird watchers had split into seven groups to cover about 15 miles of territory surrounding the intersection of U.S. Highways 59 and 56.
According to the National Audubon Society, more than 96 bird counts have been completed this year nationwide and almost 9 million bird sightings have been reported. Thousands of people participated in the audubon society's 105th annual Christmas Bird Count. Although the bird count used to be just on Christmas Day, the audubon society now includes events anytime between Dec. 14 and Jan. 5.
The count began at the turn of the century when hunting laws were practically nonexistent and people would compete to see how many birds they could shoot, Boyd said. Ornithologist Frank Chapman started the count to have people spot birds rather than shoot at them.
Boyd said people could get competitive in terms of spotting birds. But the count also provides valuable information about the bird population.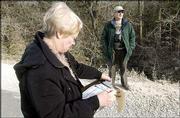 On the hunt
As they drove southeast of Baldwin, Boyd and his wife, Jan, made frequent stops to check out birds flying by fields or living in wooded areas.
To try to get the birds' attention, they made noises like someone harshly shushing a baby. Sometimes it worked.
At one stop, the sound attracted a flock of juncos -- also known as snowbirds -- perched on limbs close to Roger Boyd.
"There's more activity in the morning and closer to dusk," Jan Boyd said.
Roger Boyd walked paths through forested areas he knew were heavily populated by birds. Jan Boyd drove their Volkswagen van to the other side of the woods to meet him. Then he would list the birds he spotted.
They also took note of the wind speed, which can inhibit birds from leaving covered areas. With winds up to 24 mph Monday, weather likely affected the bird count.
Watchers noted that Monday's temperatures in the 50s were warmer than many past years.
More species
Boyd said he and Baker biology professor Cal Cink usually competed to see who could find the rarest bird.
"We usually don't know what that will be until the count is finished," he said.
There's a good chance this year it will be the trumpeter swan.
While a total count of birds wasn't available Monday evening, Boyd said watchers usually spotted 70 to 80 bird species during the Christmas count.
Over the years, watchers have had to work to distinguish more clearly among bird species. Boyd said advances in science had allowed people to discover that some birds previously thought to be of a subspecies were a species all their own. For example, cackling geese were once thought to be a type of Canada geese. But research proved they were a different species.
Copyright 2018 The Lawrence Journal-World. All rights reserved. This material may not be published, broadcast, rewritten or redistributed. We strive to uphold our values for every story published.