Kansas University basketball signee Micah Downs wants to play in the NBA next season.
In fact, it's the 6-foot-8 Seattle-area prep player's dream to enter the 2005 draft and play for pay during the 2005-06 season.
But it's far from a certainty, Downs' dad, Steve, said Friday afternoon, backpedaling from a story in Friday morning's Seattle Times that quoted both Micah Downs and his dad as saying the prep standout was NBA-bound.
"All I'm doing is feeling the waters," Steve Downs said in a phone interview. "I want it to happen if Micah is ready. If he's ready, he's ready. If he's not, he's not.
"If Micah is offered a multimillion dollar contract of course he'd go. Who wouldn't? We're a long ways from that."
It was a different position from one presented in Friday's Seattle Times in which Steve said: "Make no mistake, Micah is firmly committed to going to the NBA next year. This is his dream."
Micah Downs, who averages 24 points a game for Juanita High in Kirkland, Wash., added in an interview with Times writer Percy Allen, "This is the chance of a lifetime. How can I turn this down?"
Steve Downs said forcefully Friday afternoon his son would not formally apply for the draft at this time and disputed the first line of the Times story that said his son, "intends to apply for the 2005 NBA draft and forgo a basketball scholarship to Kansas."
"I wasn't aware we were going to forgo Kansas at all unless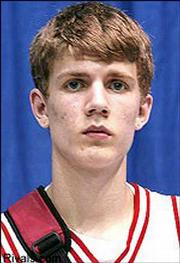 Micah is ready," Steve Downs said. "It's his plan to play in the NBA someday. Everybody knew that who recruited him. (But) we don't want to put the cart before the horse.
"Until somebody gets on the phone and tells me he has a contract, until that happens, no way. He is going to the University of Kansas. I want him to play at the University of Kansas. I always wanted it."
KU coach Bill Self, who received a verbal commitment from Downs last spring and signed him in November, said he "was shocked" to hear of the Times story early Christmas Eve morning.
"For them to visit publicly about this before we even had any knowledge of it is disappointing," said Self, who had talked to Downs family members Thursday but not about Micah's immediate NBA dreams.
"I really like Micah and I like his family. I know how badly they want him to be as good as he can be," Self said. "We feel like he had a chance to be a very good player when we recruited him.
"But on the flipside, the reality of it is that he's an excellent prospect that has a chance to be terrific -- but he's got a lot of work to do between now and then in order to put himself in the position where he should think seriously about this.
"If it did happen for him and he performed that well and improved that much during his senior year, that would be great for him. We hope that everyone has the chance to live out their dream. But based on the information that we have, there is still a lot of work that has to be done."
Self, who knows many NBA scouts and front office execs, says he has inquired about Downs' draftability.
"I have, but it's also December," Self said. "I've never heard of people making decisions in December about something that takes place in April or May. If I'm not mistaken, Emeka Okafor and Ben Gordon (UConn players who turned pro early) didn't decide until after the season last year. Even LeBron (James, Cavaliers) didn't make it official until much later.
"A decision in their mind may have been made, but they still have to do what's best for their family. The worst thing that could possibly happen would be to get your hopes tied into this one thing when, if it's not going to happen, then you're left out there with nothing."
Deciding whether a prep is to enter the draft or not was serious business, Self said. There's need for hard facts, not rumors.
"We know that there's somebody telling he and Steve that they should consider this based on third-party information," Self said. "I've never been in a situation where someone announced what they were going to do before any information was gathered."
Micah agreed this was a sudden development.
"I've always wanted to play in the NBA, but I never really thought about making the jump. That came up lately," Micah told the Times.
Downs' dad said he was aware his son "is not even listed in any mock drafts right now." He said, however, Micah's personal trainer, Steve Gordon, who has worked with many NBA players, indicated Micah had pro potential.
"You'll hear a lot of people compare him to Mike Dunleavy Jr., but I think he's a little further along than Dunleavy was at this age," Gordon told the Times. "The best thing I can say about Micah is the kid works hard. He's a winner."
Times writer Percy Allen, who covers the NBA, said he had talked to scouts who indeed were intrigued by Downs' immediate pro potential.
"He's 6-8, long, lean and can jump out of the gym," Allen said. "He's a Shawn Marion/Rashad Lewis type athlete. Every scout likes that. He cannot hit the NBA three at this point. How many high school kids can?"
The bottom line, Steve Downs said, was nothing had changed from a week or month ago. His son, like any top prospect, likely will turn pro if he's guaranteed to be taken in the first round. As for now, Downs will not hire an agent, which would make him ineligible to play in college.
"It's a possibility Micah won't be there (KU). It's a possibility C.J. Giles won't be there next year. It's a possibility Julian Wright (KU signee) won't be there next year," Steve said. "We're all playing in a big gray area right now."
¢
Prep coach's take: Downs' high school coach, who has suspended the player two games for making an obscene gesture to an official, does not think Micah is ready for the NBA.
"I would stay one more year at a top-level school, maybe even two, where he is up against, night in and night out, quality competition," Juanita coach Ezechiel Bambolo told the Times. "I think it (jumping) would be premature."
¢
Coal in coach's stocking: Steve Downs said he was sorry Self had a rocky Christmas Eve.
"Poor coach Self. It's Christmas Eve morning and people are calling him. I talked to him yesterday and coach Dooley (Joe, assistant) this morning. They know if we made a decision like that, they would be the first to know."
¢
Quotes OK: Steve Downs is not disputing the Seattle Times article. "I wouldn't say we were misquoted, but some of the things in there weren't explained exactly like I want them to be."
¢
Grades OK: Steve Downs said his son had a passing grade on the SAT test and would be fully qualified to attend KU.
"He's got great options. He's got the University of Kansas," Self said. "If he performs so well this year that he ends up being a top pick, we'll support whatever decision he and his family make."
¢
Signees: KU has signed Downs, point guard Mario Chalmers of Anchorage, Alaska, and small forward Julian Wright of Chicago. KU is planning on adding another perimeter player at semester in guard Rodrick Stewart of Seattle, a former USC player, who will transfer here if he's academically eligible.
Copyright 2018 The Lawrence Journal-World. All rights reserved. This material may not be published, broadcast, rewritten or redistributed. We strive to uphold our values for every story published.