Scott Depot, W.Va. — The 17-year-old granddaughter of Jack Whittaker, winner of the nation's biggest undivided lottery jackpot, was found dead Monday near her boyfriend's home, more than two weeks after she disappeared.
The cause of death was under investigation. Authorities said there were no obvious signs of violence. An autopsy was planned today.
The body was found several hundred feet from a house owned by Steve Crosier, whose son Brandon was Bragg's boyfriend, said Trooper 1st Class S.E. Wolfe. The body was found behind a junked van, wrapped in a sheet and plastic tarp.
A preliminary investigation indicated that Bragg may have died in the Crosiers' house and her body was later moved.
Bragg, who lived in the nearby town of Hurricane, was last seen alive on Dec. 4. Whittaker, a contractor who on Christmas Eve 2002 won a $314.9 million jackpot, reported her missing five days later.
Steve Crosier, in a brief conversation with reporters outside his house, said: "All I know is she OD'd and Brandon freaked out."
But police would not comment on whether drugs were involved, and in a later telephone interview with The Associated Press, Crosier said he did not know any details of Bragg's death or when her body was placed outside on his property.
Whittaker has had several brushes with the law since he won the prize. Earlier this month, a magistrate ordered him to go into rehab and surrender his driver's license after his second drunken driving arrest this year.
He has also been accused in two lawsuits of assaulting female employees of a racetrack. And his vehicle, business and home have been broken into.
In September, an 18-year-old friend of his granddaughter was found dead at Whittaker's home. That death remains under investigation. Whittaker was out of town at the time.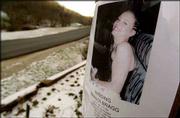 Copyright 2018 The Associated Press. All rights reserved. This material may not be published, broadcast, rewritten or redistributed. We strive to uphold our values for every story published.