Kansas City, Mo. — Sitting at her kitchen table, Jane Howard uses both hands to sculpt the face of Santa Claus.
What starts as a flat piece of polymer clay becomes round with chubby cheeks, a wide-bridged nose, laugh-lined eyelids, a furrowed brow. A scalpel-like tool and Howard's fingers work the clay to create a half-grinning mouth. Ironically in the handcrafted Santa world, dour faces are the norm for jolly old St. Nick.
"I always create happy faces," said Howard, a retired art teacher who makes dozens of Santas annually. "It's that smile that keeps me going."
Howard has never been busier making Santas. In the past, the Kansas City resident sold a few at benefits for the Kansas City Symphony. Now she makes them for Decori, the year-round holiday store Jim Scarpino and Ralph Liebetrau recently opened in downtown Weston.
"No two are ever alike," said Scarpino, who bought Santas each year from Howard when she was selling them for the symphony. By the time Christmas arrives, she will have made 80 Santas. Each takes several days and shopping trips to create.
A few weeks ago Santa No. 54 was in progress.
A customer loaned Howard a greeting card showing Santa wearing a purple outfit and requested a life-size one based on the illustration. Howard honors customers' wishes, often personalizing Santa with heirloom toys or antique jewelry. She even has made Santa wielding clubs for an avid golfer.
But Santa No. 54 poses a challenge. Howard's sizable stash of vintage clothing and fabric yields no purple suitable for a purple suit. She hunts through the racks at her favorite secondhand clothing store. No luck. However, inspiration strikes at a department store, where she spots a purple twin comforter. She pins the puffy quilted nylon on his shoulders, shaping it into a long coat.
"I don't need a pattern," she said. After doing this a for decade, Howard pretty much knows Santa's measurements by heart. She builds this old guy in all sizes, as small as 2 1/2 feet. Some of her Santas sit on mantels; others lie stomach down on miniature sleds. If she's a little off, she'll use extra padding and let the basic stitches of her 8-year-old Singer sewing machine make it right.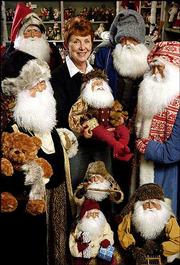 Howard's fascination with Santa started as a child. She loved visiting him in former downtown Kansas City department stores such as Emery, Bird, Thayer and the Jones Store. To her, he symbolized the excitement and anticipation of Christmas like the ultra-thick catalogs she received in the mail.
Despite having hints of the holiday scattered throughout her home year-round, she still "can't wait" to wander through boutiques and antique stores in small towns to look at Christmas decorations. And a framed watercolor Howard painted of a smiling Santalike man hangs as a focal point in her living room.
Through the years, Howard was inspired by other local women handcrafting Santa Clauses. Deborah Henderson's Santa dolls, known for their plush outfits and intricately sculpted long fingers, were made in Weston and were on display in the Clinton White House before being mass-produced. Deborah Dinneen of Olathe fashioned Santas for a Crown Center holiday store with smiles so big they showed their tonsils.
Using similar methods, Howard began crafting Santas. She gave a woodsy-looking character to next-door neighbor Beth West, a lettering artist at Hallmark. West took it to work with her, where other artists admired it.
"They're original, whimsical and spontaneous," West said. "She never has a set plan. The Santas just spring up from her."
Copyright 2018 The Lawrence Journal-World. All rights reserved. This material may not be published, broadcast, rewritten or redistributed. We strive to uphold our values for every story published.