Despite continuing public complaints over school closings and voter rejection of a bond issue in 2003, Lawrence school board members say they are ready to take a new bond proposal to the public.
"I would hope people wouldn't hold the kids hostage from having buildings repaired," said board member Cindy Yulich. "We're making the best decisions we can."
The board last week finalized the contents and pricetag of a proposed bond issue. It will include two questions for the ballot:
One would allow spending more than $54 million for construction at six schools and replacing South Junior High School.
The second would allow nearly $9 million be spent to upgrade technology -- including buying nearly 2,000 laptop computers, expanding computer networks and buying hundreds of projectors for uses such as PowerPoint presentations.
Voters will decide the bond issue in April, voting on each question separately.
District officials and school board members have faced criticism over closing three elementary schools in spring 2003 and the planned closing of Lawrence Alternative High School at the end of the current school year.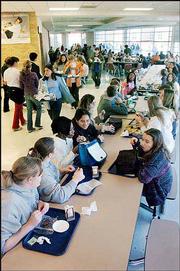 Voters rejected a $59 million bond proposal in April 2003. That plan included construction or renovation at 15 schools, but became linked in the mind of voters with a debate over elementary school consolidation, a major point for residents of many existing neighborhoods.
Informal exit polling indicated voters cast ballots against the issue because of displeasure over the school closings. There also were concerns about the use of funds from an earlier issue.
The final tally of the last attempt: Just more than 9,500 votes were in favor; nearly 12,000 against. The vote result showed a strong east-west split of the city, with eastern precincts largely opposed and those on the west side largely in favor.
Asked why the board plans to put another bond issue before voters so soon after a similar one was rejected, board member Austin Turney said this issue and campaign would be different. What is more important, he said, is that the district's needs remain unmet.
"South (Junior High School) has been around now for about 40 years, getting worse and worse. It's time to catch up," he said. "Technology has caught up with us. We can't be the ones who are behind."
Retiring portables
The district's bond debt is low, Yulich said, and passing a bond issue would allow the district to get rid of some portable classrooms.
"Any school district from time to time is going to need to go to its citizens and ask for funds to keep schools up," Yulich said. "We've worked very hard to be responsible in terms of how we put this bond issue together."
The bond issue's construction proposal includes $31.9 million for renovating Broken Arrow School and tearing down and replacing South Junior High. It also has $5.4 million for high school improvements.
The other three junior highs would get renovations worth $16.7 million. The proposal includes adding more classrooms at West, Central and Southwest junior highs, eliminating the portables.
"Portables are not the best thing in storms; they're not the best thing for security," said Tom Bracciano, operations and facility planning director for the district. "They come with so many problems."
They are not energy-efficient, he said, and animals such as skunks, raccoons and opossums like to live under portables.
"Getting skunks out from under a portable -- it's not good," Bracciano said.
Some portables at West and South are nearly 20 years old. One at West is more than 20 years old, he said.
"Portables are supposed to be temporary -- not permanent," Yulich said. "Unfortunately, they've become permanent around here."
No ulterior motives
Public concern to the contrary, Yulich said the board wasn't trying to pass a bond proposal because architecture and engineering consulting firm DLR Group wants to be paid. The firm was hired on a contingency basis for the last bond issue. It won't be paid unless a bond issue is passed.
"Heavens, no," she said. "This school board wants to pass a bond to take care of buildings and programming for kids. That's what this bond issue is about. Period."
DLR and the Lawrence school board from 2001 to last year developed a long-range plan for the district's buildings and future building needs. The firm did not get paid for its work on the plan except some reimbursement for printing costs.
Under its agreement with Lawrence public schools, the firm would serve as project and construction manager if voters pass a bond issue.
District officials have budgeted 9 percent of the construction bond to pay the company for managing construction.
DLR Group has offices around the United States.
Burdett Loomis, chairman of Kansas University's political science department and an opponent of the last bond issue proposal, said he was not sure how the new bond issue would fare with voters.
"The question is, can you get energy for the bond issue and not have a huge opposition that expands beyond what I call the regular anti-tax people?" he said.
Proposed bond defeated in 2003:Elementary schools: $12.8 million. There was $9.2 million to expand Cordley and New York schools to accommodate students from schools that closed. Improvements to other schools would have cost $3.6 million.Junior high schools: $30.2 million. There was $21.2 million to replace South Junior High School and $9 million for renovation of classrooms at Central and West junior high schools and additions at Southwest Junior High School.High schools: $15.7 million. There was $8.9 million to renovate Lawrence High School and $6.8 million for a technical/vocational school, which would have housed the alternative high school.Proposed in two separate bond questions on the April 2005 ballot:The first question would give more than $54 million for improvements at seven schools. The second would give $9 million to technology.South Junior High, Broken Arrow: $31.9 million. Remove and replace South Junior High School and improve Broken Arrow School, including asbestos removal, new special education rooms and an art room. Also will build a cafeteria for each school and a kitchen to be shared.Other junior highs: $16.7 million. Add classrooms to eliminate portables. The money also will go toward expanding or building new gyms and expanding a cafeteria.High schools: $5.4 million. Most of that will go to Lawrence High School to renovate locker rooms and science rooms, buy new lab equipment, build a new entrance to the east gym and add space for three science labs. The money also would finance addition of labs for things like welding at Free State High School.Technology: $9 million. This includes expanding computer networks, buying 600 projectors for such things as PowerPoint presentations, buying nearly 2,000 laptop computers and buying software. It also would allow students and staff to get wireless Internet access in all classrooms and offices in the district -- about 800 rooms.
Copyright 2018 The Lawrence Journal-World. All rights reserved. This material may not be published, broadcast, rewritten or redistributed. We strive to uphold our values for every story published.