Emporia — Bob Finlay was 6 years old when the only hobo he has ever seen came through Harleyville, asking to dig carrots out of the family garden.
It's possible that hobo was carrying hobo nickels -- tiny 5-cent canvases into which hobos etched intricate designs and then used them as currency.
Today, Finlay carries on the tradition. The rural Emporia resident is rated by Verne Walrafen, secretary of The Original Hobo Nickel Society, as one of the top dozen nickel carvers in the world.
Amazingly, the 68-year-old Finlay has been carving nickels for only a year.
From knives to nickels
He was hooked by a class at Glendo Corp., an Emporia manufacturer of engraving and stone-setting equipment.
Glendo's classes draw people from around the world, and the company's products are known as the best in the business.
In the 1980s, Finlay took on the hobby of engraving. It started with guns and later turned to knives.
He said he spent 100 to 200 hours on one knife. Looking at the jewel-encrusted daggers with ornate carvings, it's easy to see why he has embraced nickels.
The coins take him an average of 10 to 12 hours, and he has finished about 50 so far.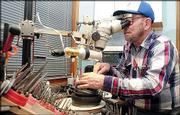 Skipping meals
On a recent evening, Finlay was taking background metal out of a nickel, one of 10 he was carving for a collector. A hobo holding a pick ax along railroad tracks was already visible.
Finlay's glasses were pressed up against a microscope focused on the nickel, as his thick fingers finessed what he called a miniature jackhammer, a small tool powered by compressed air that delivers rapid strokes into the metal.
Cake crumbs rested on the table below Finlay's mouth. Working in the evenings and on weekends, it's not unusual for him to skip a meal.
"It's nothing if I work 10 hours straight, or 11, 12," he said.
Finlay was surrounded by Glendo equipment, a circular vise to hold the nickels, the jackhammer and its control unit, numerous bits, a sharpener and more.
The bits were organized in plastic holders, produced by Finlay's injection-molded plastics company, BPE Inc. The carvers of yesteryear relied on primitive tools perhaps a chisel, file and a punch (a pointed tool struck with a hammer).
The canvas is the same today, about 7/8 of an inch in diameter.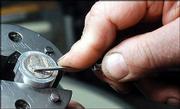 Industry standard
From 1913 to 1938, the government turned out nickels bearing a buffalo on one side. Hobos traded the modified coins for food, clothes or a place to sleep, Finlay said.
"The originals are what I would call crude by today's standards," Finlay said. "But you got to think, these guys were out with nothing to work with."
But in the mid-1960s, Don Glaser's interest in firearms engraving led to a solution. His son, D.J., now president of Glendo, said his father invented the Gravermeister -- the predecessor to the Gravermax unit Finlay uses to power the engraving tools.
By 1977, Glendo was formed with three employees. Today, Glendo's engraving product line is the industry standard, D.J. Glaser said, for the traits of dependability, ease of use and the results.
Finlay knows of two other companies putting out similar products, but he's not interested.
"I don't know any people that use (the others)," Finlay said. "Personally I think Glendo has the Cadillac of the engraving (tools)."
'The Excavator'
The Original Hobo Nickel Society has nicknamed Finlay "The Excavator" for his propensity to dig deep into the nickel. He does it to make the subject stand out. One of the things that makes him unique is his ability to make those small, full-figure hobos. Nobody else has done that.
"I like to make things more 3D than 2D," Finlay said. "Most people have never seen a nickel, one that's been carved, and it's fun to carve something that they haven't seen."
Walrafen said the market for high-quality nickels is only about 50 people strong -- those willing to spend an average of $500 a nickel, and when bidding against others, up to $2,000.
Others buy quickie carvings online for less. Initially, Finlay didn't intend to sell his nickels, but the demand is there -- those in the know are amazed at Finlay's lightning-quick ability.
"He can do, in a day or two, what the best carvers will take four or five days to do," said Walrafen. "It comes from experience -- just a lot of carving."
Among the naturals
D.J. Glaser has seen established carvers just shake their heads in disbelief at Finlay's speed and skill.
"He's such a natural at it," Glaser said. "He's an amazing man, and this is just one example of it."
There just might be more naturals uncovered by Glendo classes. Started in 1990, four or five sessions were offered each year. Now, 500-plus students attend more than 40 classes each year, said Kim Pember, Glendo general manager.
Glaser said the classes fill 1,500 to 2,000 hotel rooms each year.
Beginning, intermediate and advanced classes in stone setting, jewelry engraving, wood engraving, bulino (Italian engraving) and more are offered. Prices range from $725 to $1,295 for a week of classes.
"A lot of people do this for their vacation," Pember said.
In 2005, Glendo will sponsor its first overseas classes in Belgium and Australia and start a grandmasters series led by two world-renowned engravers.
"These are the high-end engravers," Pember said. "We pride ourselves in bringing the best engravers."
Copyright 2018 The Lawrence Journal-World. All rights reserved. This material may not be published, broadcast, rewritten or redistributed. We strive to uphold our values for every story published.