SOUTH BEND, IND. — The goals are as lofty as they were in Knute Rockne and Frank Leahy's day, the demand as unforgiving.
Winning is, and always will be, everything at Notre Dame. But the gilt has been flaking for years now, and the furor over Tyrone Willingham's firing only exposed the extent of the flaws. For all its rich history and tradition, Notre Dame's football program now is like so many others in need of a rehab.
"I think right now, when you're 6-5, you can't call yourself an elite program," athletic director Kevin White said. "I think historically we are, traditionally we are. But coming out of the 2004 season, we certainly are not. We have to find our way back to the pinnacle position, and that's what we're going to do."
But how? The harsh criticism and inside squabbling that accompanied Willingham's dismissal only are the latest problems for Notre Dame. In truth, the program has been in decline for nearly a decade.
"You are what you are, folks, and right now, you're a 6-5 football team," new coach Charlie Weis said. "And guess what? That's not good enough."
Signs of trouble
The Irish haven't won a national title since 1988, and it's been 11 years since they even contended for one. Their records have been mediocre, and progress has been short-lived.
Lou Holtz lost 11 games in his last three seasons, two more than he'd lost in the previous six. Bob Davie was the first coach in 34 years to lose four straight, and his two losing seasons in five years matched Gerry Faust. Willingham went 13-15 after winning his first eight games, losing five games by 31 points or more.
The Irish have been unranked for long stretches at a time and have been in a top-tier bowl game only once since 1995 -- a 41-9 loss to Oregon State in the 2001 Fiesta Bowl. They've had one first-round draft pick in the last five years.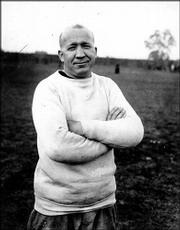 The off-the-field woes equally were galling. There have been scandals more suited for a football factory, including an age-discrimination lawsuit and rape accusations against four former players. The school suffered its first major NCAA violation after a booster lavished more than a dozen players with gifts, trips and money -- paid for with the $1.4 million she'd embezzled from her employer.
Perhaps worst of all was the ever-so-brief tenure of George O'Leary, who resigned in December 2001 -- five days after he was hired -- after admitting he lied on his resume about his academic and athletic background.
O'Leary looked like the perfect person to revive the Irish. Already reeling from the Davie years, Notre Dame had been snubbed by Jon Gruden and Oregon coach Mike Bellotti. In came O'Leary, an Irish Catholic who had long dreamed of coaching at Notre Dame and promised to wake up the echoes, as the school's fight song says. Later, White would say O'Leary was like "something out of central casting."
But O'Leary wasn't quite what he seemed. He didn't have the master's degree in education that he claimed, nor had he played college football for three years. O'Leary quickly resigned, but it was humiliating nonetheless for Notre Dame.
The last straw
So when the Irish struggled under Willingham, a group of alumni sent a letter to the board of trustees, expressing concern about the direction of the football program.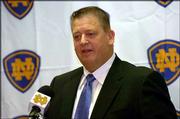 "We weren't talking about two years of Tyrone Willingham, we were talking about 10 years," said Tim Kelley, a 1964 graduate and co-author of the letter, sent last January.
"Football is the emotional engine that drives Notre Dame. We absolutely believe that," Kelley said. "It was going down the drain and people weren't doing anything about it."
The alums got their wish -- but at what price? In firing Willingham, the first black head coach at Notre Dame, the Irish essentially put a win-loss record ahead of integrity.
White didn't agree with the decision and had nothing but high praise for Willingham, but he wasn't prepared to "break ranks" with university leaders. The Rev. Edward Malloy, Notre Dame's president, was prepared, saying he was "embarrassed" by the firing and hadn't supported it.
It didn't end there.
Malloy's assistant shaved her head in protest, and T-shirts supporting Willingham were soon spotted around town. Dave Duerson, a former player and board of trustees member, said the school had badly mishandled the dismissal, causing a "major PR nightmare."
"Personnel decisions are always difficult, transitions are always difficult, and this is no different," said the Rev. John Jenkins, the incoming president.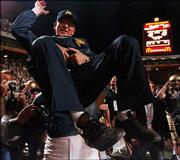 'Egg on their face'
Getting snubbed by their coach of choice didn't help. Former Irish assistant Urban Meyer was expected to jump when Notre Dame beckoned with his dream job. But Meyer already was leaning toward Florida when Willingham was fired, and his meeting with Notre Dame officials turned out to be little more than a show of respect.
In another sign of how mortal the Irish have become, top candidates weren't lining up. One, Jeff Tedford, fell out of contention when he signed an extension at Cal -- a school whose defining moment in football history is a touchdown run through the Stanford band.
"It's kind of funny that, for once, they fell flat on their face," said Matt Baumgartner, a lifelong South Bend resident and Notre Dame fan who bartends at The Linebacker, a popular gameday spot across the street from Notre Dame Stadium.
"Not that I'm against Notre Dame, but they should have thought this through. I just think they have some egg on their face."
All this has by no means left the Irish with a crisis of confidence.
"Look, the reason it's been tough is because Notre Dame has such a high profile," Jenkins said. "We welcome that scrutiny. We think we have it because we have high ideals for our program. We're going to keep those high ideals and we're going to attain them."
Solutions
Notre Dame has already begun patching up its internal fractures. Jenkins and Malloy have closed ranks, often using the same words to answer the toughest questions. Jenkins is taking full blame for calling the meeting to fire Willingham, saying there was no "undue influence" from the board of trustees.
He also plays down questions of dissension, saying the differing opinions simply reflect the passion people have for Notre Dame. As for the school's integrity, Jenkins and Malloy point to Notre Dame's high graduation rate -- 99 percent overall for players who stay at least four years.
While Jenkins did apologize to the Faculty Board of Athletics on Wednesday, according to a copy of his speech obtained by the South Bend Tribune, he said the best way to move forward was to act as Notre Dame always had.
"Only in the sense of being what we are in the best way we can, that's the only repair work we have to do," Jenkins said. "That's what we need to do to get people believing in us. I think people will respond positively to that."
Former coach Ara Parseghian, one of the most successful at Notre Dame, noted that the Irish had hit rough patches before -- and endured.
Certainly, he said, the names Rockne, the Gipper and the Four Horsemen come to mind, as do 11 national championships.
But there were some pretty lean years under Gerry Faust and Joe Kuharich, too. When Parseghian took over in 1964, the Irish hadn't had a winning season in five years and had gone 15 years without a national title.
"If you go back and read the newspapers ... you'll get exactly the same thing you're reading right now: It's too tough academically, the schedule is too tough, they can't get the good players," Parseghian said.
"I honestly believe they're due for an up cycle."
The right guy?
For his part, Weis has no interest in looking back.
He takes the job with no illusions, either. A 1978 graduate, he knows all too well the rigors of Notre Dame's academic standards. And after winning two of his three Super Bowl rings as the New England Patriots' offensive coordinator, he doesn't care to discuss tough schedules.
"The people that complain about those things are looking for excuses," he said. "If I answered that any other way, what I would be doing is letting the players have a reason for or have an excuse for failure."
As bleak as things looked the past two weeks, almost all will be forgiven if Weis whips together a season or two of that old magic.
For some, though, Notre Dame will never be quite the same.
"If you're in the limelight, there are always going to be ups and downs because nobody's perfect," said the Rev. Theodore Hesburgh, the school's president emeritus. "For that reason, you will have ups and downs in every human endeavor. But the important thing is to keep on trying, and to keep that goal up there high."
Year
Coach
Yrs
W
L
T
Pct.
1887-89, 92-93No head coaches
5
7
4
1
.625
1894 J. L. Morison
1
3
1
1
.700
1895 H.G. Hadden
1
3
1
0
.750
1896-98 Frank Hering
3
12
6
1
.658
1899 James McWeeney
1
6
3
1
.650
1900-01 Patrick O'Dea
2
14
4
2
.750
1902-03 James Faragher
2
14
2
2
.833
1904 Louis Salmon
1
5
3
0
.625
1905 Henry McGlew
1
5
4
0
.556
1906-07 Thomas Barry
2
12
1
1
.893
1908 Victor Place
1
8
1
0
.889
1909-10 Frank Longman
2
11
1
2
.857
1911-12 John Marks
2
13
0
2
.933
1913-17 Jesse Harper
5
34
5
1
.863
1918-30 Knute Rockne
13
105
12
5
.881
1931-33 Hunk Anderson
3
16
9
2
.630
1934-40 Elmer Layden
7
47
13
3
.770
1941-43, 46-53 Frank Leahy
11
87
11
9
.855
1944 Ed McKeever
1
8
2
0
.800
1945; 1963 Hugh Devore
2
9
9
1
.500
1954-58 Terry Brennan
5
32
18
0
.640
1959-62 Joe Kuharich
4
17
23
0
.425
1964-74 Ara Parseghian
11
95
17
4
.836
1975-80 Dan Devine
6
53
16
1
.764
1981-85 Gerry Faust
5
30
26
1
.535
1986-96 Lou Holtz
11
100
30
2
.765
1997-01 Bob Davie
5
35
25
0
.583
2001 George O'Leary
0
0
0
0
.000
2002-04 Ty Willingham
3
21
15
0
.583
TOTALS
116
802
262
42
.744
Copyright 2018 The Associated Press. All rights reserved. This material may not be published, broadcast, rewritten or redistributed. We strive to uphold our values for every story published.