This week, That's Racin' concludes its review of the top stories of the NASCAR season. Last week, David Poole shared the headlines he ranked sixth through 10th. Today, we'll look at the year's five biggest stories.
5. Officiating woes
As spring turns to summer, NASCAR endures a crisis of confidence in its ability to officiate races.
At Charlotte in May, Carl Edwards slows when the caution lights flash on late in a Truck race. When they flash back off, Edwards is passed and loses the race. NASCAR at first denies the lights came on, then later admits they did.
At Dover the following week, the Nextel Cup race is held up under yellow for nearly a half-hour as officials try to sort out scoring issues. At Pocono, a flagman waves the wrong flag at the entrance to pit road, causing more confusion.
Eventually, NASCAR begins relying solely on scoring loops located at various points around the track to determine where cars were running at the time the yellow flag comes out and the field is frozen. The problems abate, but not before NASCAR has egg on its face.
4. Beginning of the Ends
Mark Martin, Rusty Wallace and Terry Labonte have won 111 Cup races between them. But Labonte will run only 10 races in 2005 while Martin and Wallace will compete full time in their final seasons.
Their exit strategies from the rigors of Nextel Cup competition, added to the part-time schedule now being attempted by Bill Elliott, are just the beginning of what figures to be a series of retirement announcements over the next couple of years for a group of drivers who've become NASCAR mainstays.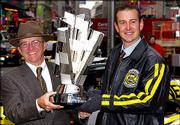 Dale Jarrett, Ricky Rudd, Sterling Marlin, Ken Schrader and Jimmy Spencer are all 47 or older and must at least be thinking about when they'll want to step out of their driving shoes.
3. The Ferko treatment
May 14 in a news conference at Richmond International Raceway, NASCAR announces that its 2005 schedule will not include a race date at North Carolina Speedway in Rockingham, that Darlington will also lose one of its dates, and that Phoenix and Texas will each get second Cup races.
In the bargain, a lawsuit brought by Speedway Motorsports Inc. stockholder Francis Ferko against NASCAR and International Speedway Corp. seeking a second date for Texas is settled. ISC, meanwhile, buys Martinsville Speedway, which had been half-owned by members of the France family and half-owned by Clay Campbell.
The results are not pretty for fans in the Carolinas, with two Cup dates moved out of those states. Darlington is left with only a night race in May 2005 and an uncertain long-term future in the sport.
With tracks in the Pacific Northwest and the New York City area on the ISC wish list, is Virginia's Martinsville vulnerable to lose one of its dates? Stay tuned, this story is far from over.
2. Coping with tragedy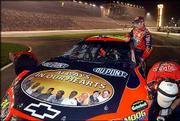 Oct. 24, a Hendrick Motorsports team plane crashes into a mountainside en route to a race at Martinsville Speedway, killing all 10 of those on board.
Among those killed are Ricky Hendrick, team owner Rick Hendrick's son; Rick's brother, John and John's two daughters; legendary engine-builder Randy Dorton and Hendrick Motorsports general manager Jeff Turner.
While the personal losses to the families of all of those who died can never be measured, the impact of the tragedy on the Hendrick teams' racing success will be assessed over the next few years as one of the sport's premiere operations tries to recover and move forward into its third decade of NASCAR competition.
1. Chasing the Prize
After 29 years of picking its champion one way, the NASCAR Nextel Cup Series changes to the Chase for the Nextel Cup format. Jimmie Johnson leads for much of the 26-race "regular season," but falters as the "playoffs" near and allows Jeff Gordon to take the lead going into the 10-race Chase.
But Kurt Busch wins the first Chase race at New Hampshire and finishes in the top 10 in nine of the final 10 races. Johnson, after a slow start in the Chase, wins three in a row and four of five to climb back into the battle, with Gordon, Martin and Dale Earnhardt Jr. also in the picture going into the final race at Homestead-Miami Speedway.
At Homestead, Busch survives having a wheel come off his Ford and battles to a fifth-place finish. Johnson finishes second in the race and Gordon third, but that's not enough. Busch wins the title by eight points over Johnson, the closest margin in Cup history, with Gordon just 16 points back.
Copyright 2018 The Lawrence Journal-World. All rights reserved. This material may not be published, broadcast, rewritten or redistributed. We strive to uphold our values for every story published.