Wanda Sykes has one of those voices that just makes you laugh no matter what she's saying.
Her segments on Comedy Central's "Crank Yankers," for instance, where she's complaining to a mechanic about the, uh, dookie left in her back seat, or calling a prison to arrange a conjugal visit -- even thought she doesn't know anyone there -- are among the show's most hilarious moments. They rely completely on the lazy, acerbic delivery that Sykes has perfected since her stand-up debut in 1987 and subsequent work as writer/performer on "The Chris Rock Show."
When that voice and delivery are put with a face, Sykes makes an even greater impression.
As Biggie Shorty in "Pootie Tang," as Wanda on "Curb Your Enthusiasm" or as a brilliantly placed commentator on "Inside the NFL," she always provides a show-stealing presence.
Her new TV project, "Wanda Does It," lets her loose in a variety of jobs, from hooker to WNBA coach. As in all her roles, it's Wanda Sykes playing Wanda Sykes playing a character that can frequently be compared to Wanda Sykes. And it's funny.
Q: Are you the Queen of Comedy Central?
A: I'm on there a lot, yeah.
Q: Or is Mo Rocca?
A: Ooh, that's a close one.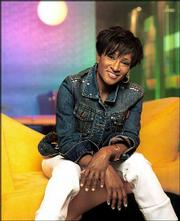 Q: How's the new show, "Wanda Does It," going?
A: I'm having a great time doin' it. So now we're just waitin' to see what they're gonna do with it. As far as whether we're gonna go back and do more, whatever.
Q: Any jobs you've gotten to do that have made you consider a career change?
A: No, I'm pretty much doin' what I'm doin'. It's nice to go and taste a little bit of other jobs, but I'm happy with what I'm doin'.
Q: Of all your projects -- "Wanda Does It," "Inside the NFL," your book, your stand-up -- which one is your favorite?
A: I like everything for different reasons, but I'm havin' fun doing the stand-up tour because it's where I started. Doing stand-up, that's my first love, and it's fun. Not edited, no censors, nothin'. Full freedom.
What: Comedian Wanda SykesWhen: 8 p.m. todayWhere: Uptown Theater, 3700 Broadway, Kansas City, Mo.Tickets: $29.50Ticket info: (816) 753-8665
Q: You got into television pretty late, only like seven years ago. Were you doing stand-up already?
A: Yeah, I started doing stand-up in '87.
Q: How did you get into that?
A: I was working at NSA, and --
Q: NSA?
A: Yeah, National Security Agency. Out of college. I was working there.
Q: Can you talk about that without having to garrote me afterward?
A: It was just boring, and I was bored silly doing it. So I heard about a contest where -- the Coors Light Super Talent Showcase or something -- and comedy was one of the categories. So I sat down at my desk and wrote some jokes and entered the contest, and, you know, got in there. And I didn't win, but had a great time doing it, and just hooked up in the comedy circuit and just stayed with it.
Q: Any advice for a comic just starting out?
A: Move to a city where -- like if you don't live in New York -- move to a city where you can develop. I wouldn't come out to L.A. right away, 'cause there really isn't -- a lot of places, the comedy clubs, you have people who already made names for themselves gettin' up on stage, so it's kind of hard to start here. I'd go to a city like New York, or -- New York. (laughs) Or San Francisco, maybe. And start off there.
Q: Who do you think is funny?
A: Working today?
Q: Who inspired you, or who you like working with. Whoever.
A: I love Richard Pryor. Richard Pryor, I think, is the greatest. And growin' up, we always watched comedy in the house. Either "Roots" or comedy. And Ed Sullivan had a bunch of comics on, so I remember watchin' Moms Mabley. That's the one that really stuck out, just because, being a female. And Flip Wilson, Carol Burnett, the Richard Pryor variety show.
Q: Your book is pretty up-front about your dislike of Bush. Now that the election is over, and the outcome was wrong, what are your thoughts?
A: Four more years. I mean, either way -- it's not like I was crazy about Kerry either. It's just four more years of the same, basically. Keep blowin' stuff up. We'll see.
Q: What's life on the road like for a comic? Do you have a tour bus, a crappy van, or what?
A: We fly. ... We're pretty low-key. We fly in, we like to stay at a nice hotel, do the show, then have a nice meal, that's pretty much it. If we have time we'll try to take in a movie or somethin', but after the show we pretty much just eat and drink.
Q: On your blog you usually mention where you ate. You seem to really enjoy food.
A: I enjoy a nice meal and a nice bottle of wine. Or bottles of wine.
Q: Do you have big Thanksgiving plans? Will you be on the road?
A: No, I'm gonna be here in L.A.
Q: Any recipes you'd like to share? Stuffing? Are you deep-frying the turkey? What's your pleasure?
A: I pop that bitch in the oven. Old-fashioned.
Copyright 2018 The Lawrence Journal-World. All rights reserved. This material may not be published, broadcast, rewritten or redistributed. We strive to uphold our values for every story published.